Are you thinking of creating a house or renovating your old fashioned space but still have no idea about it? Or maybe you are planning to do it but are still confused? All you need to do is to find an interior design firm Singapore that is right for you.
Choosing the professional to design your dream home could be both exciting and costly, not to mention challenging. But before that, you should make a checklist to consider the perfect professional to help you in creating your space. And we will help you to make sure that you put in a lot of time and effort to find the right one for the job.
Know Your Personal Style
No matter how perfectly you find the best interior designers Singapore, the most important thing you should do first is to know your style. 
Every one of us surely has our own personal taste and preference. Although you would hire the most expensive interior designer, if they don't take your personal taste to be a consideration in designing your home, you might end up disliking the work.
You should ensure to take notes of things you want to have for your home. You can start by thinking about the overall concept or color palette you want, see some interior design references on internet also might be helpful.
Set the Efficient Budget
Financial plan is the most essential thing you should do as a consideration of hiring a professional. Before hiring top interior design companies Singapore, you're not only looking for an affordable interior design Singapore but also set your budget as efficiently as possible. 
Keep in mind the designer is knowledgeable of any furnishings or items in the room that should be given priority. An interior design firm like Ovon-D will not only provide a home design consultation, but also an efficient budget planning, so do not worry about spending your money for unnecessary things. 
Doing Some Research is Mandatory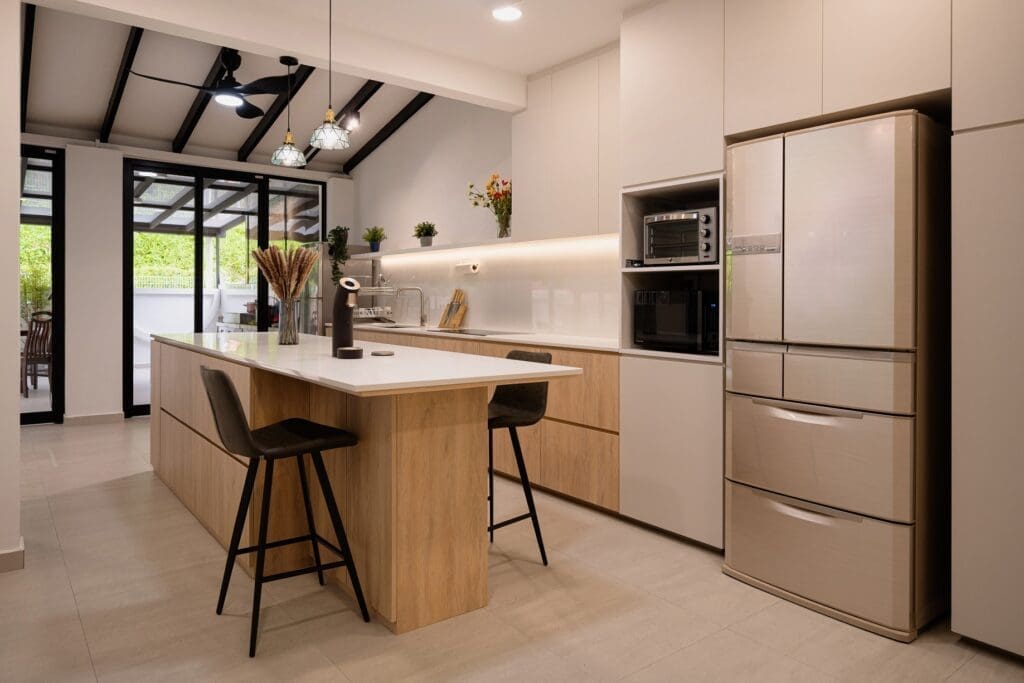 It is also important to do research whether about the design you want or the company you are looking for. You may go with searching about interior design Singapore review, but make sure don't explore too deeply about the company, like the interior design Singapore salary because it will not help you to find the right match. 
Otherwise, you can dig into their portfolio on their website to have an understanding of their work. The designer's portfolio will show you how well the designer has turned their clients' homes and whether they will be able to accomplish the style you desire.
Don't Hesitate to Ask
Sooner or later, you surely will get to know your designer. And for the designer, It's indeed critical for them to listen to what their client wants in order to respond with a design that is equivalent to the client's wish.
When you are about to hire an interior designer, you can ask some possible questions that align with your needs. Starts it with the design style they have, what design services they offer, the possible budget that fits your financial plan, or who will be working with you on the project.
Create a Timeline of Your Project


When it comes to designing your home, you should have a reasonable estimate of how much time you have. A timeline might help you to set everything perfectly. Consider the time you have whether the company will complete your deadline.
You should keep in mind that projects with a shorter timeline could be more expensive. To ensure that, you can begin with organizing earlier in order to allow sufficient time for the project to be finished.
It is always exciting just to think about renovating your home. Remember to enjoy every process and ask questions along the way as it is an interior designer Singapore job like Ovon-d to guide you. 
Ovon Design, Your Best Option For Home Design! 
As a company that achieves an award winning interior design Singapore from Qanvast, Ovon Design can be the best option for you. We provide the best service for you such as space planning and conceptualized design, soft furnishing and styling consultation, and even budget planning to make everything affordable! Go to our website if you want to see our previous portfolio or you can visit our showroom at 53 Joo Chiat Place.