Are you an owner of a 4-room BTO and planning to make your flat stand out? Try to find interior design ideas Singapore! Before you start the renovation, it is better for you to do a research regarding the interior model that you want to apply to your BTO. Make sure to prepare yourself for some jaw-dropping inspirations that will make you eager to start the renovation soon.
Trying to find a 4 room BTO renovation design by yourself can be very exhausting. The right choice in order to obtain a catchy design and a smooth renovation process is by hiring an interior designer. Located in Joo Chiat, Singapore, Ovon-D will mobilize the most experienced and knowledgeable workforces for the sake of your dream renovation!
Down below, we have compiled 7 Brilliant Interior Design Ideas for 4 Room BTO Renovation in Singapore. Hope it helps!
Industrial Touch
This theme is probably the most mainstream of all since the simplicity and effortless-look could mesmerize every property owner. To create an industrial-themed environment, all you need to do is add several eye-catching elements such as brick walls, exposed pipes, warm-colored wood and many more!
The trendy i

ndustrial interior design

theme is one of the most recommended 4 room HDB resale renovation ideas. This style is inspired from industrial spaces such as warehouses or factories. Sounds weird, huh? But you really have to look at the final result of having an industrial interior design applied to your 4 room BTO!
Scandinavian: A Dream of Every Singaporean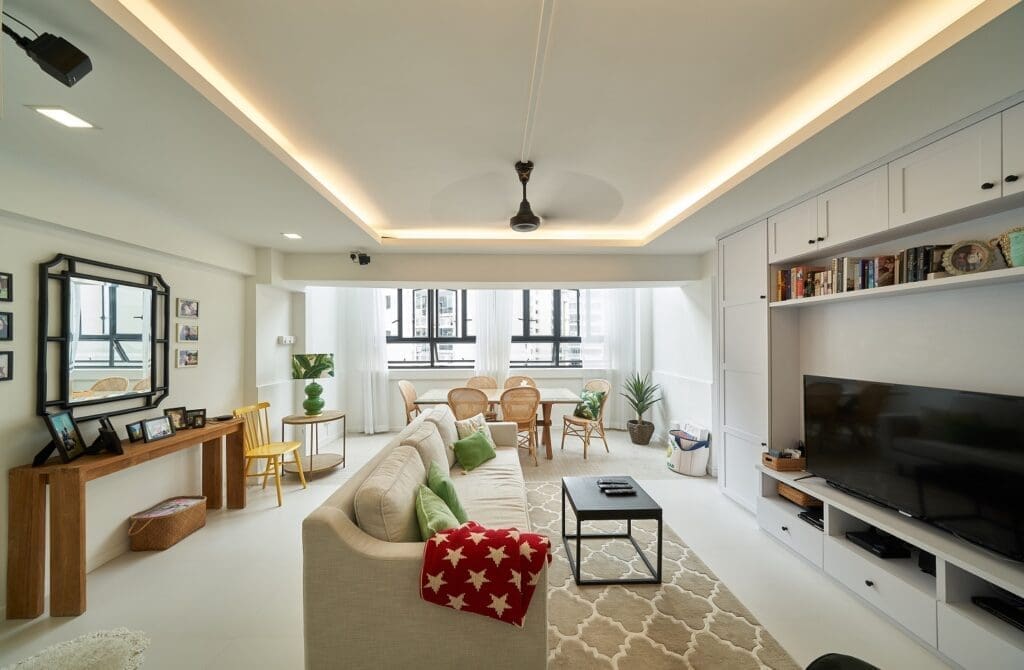 It is a well-known fact that space is the most important aspect for an HDB. Almost every HDB occupant is dreaming of having a wide space for their home. However, as we know that HDB has a very limited space. Therefore, it depends on how smart we are to make our house seem bigger. One of the ways to do that is to go for a scandinavian interior design!
Scandinavian styles are believed to create a spacious visual to every type of HDB including a 4 room bto flat design layout. This is due to its materials used for the interior design. A scandinavian-themed interior is by means of applying classic white walls and ceilings combined with wooden floors. Wide mirror in a particular spot will also illustrate a wider angle of the house.
Spotless and Tidy
We know that this most likely sounds like a trick rather than an i

nterior design ideas

, but spotless and tidy are also styles of renovation ideas singapore! The actual question is, how do you create a spotless and tidy 4-room HDB? Easy! All you have to do is just apply bright palettes, add architectural lamps, apply wood-based furniture and voila! A neat and clean ambience for your home!
Minimalist is The Simplest
Just like spotless and tidy, a minimalistic concept also prioritizes the value of pristine and clean surroundings. A minimalist 4 room HDB design is considered as a bare-minimum style because the main materials used to create a minimalistic vibe include monochromatic colour palette, clean, open rooms, and any other simple furniture.
Eclectic is Chic!
Are you the type of person who adores exquisite things so much? Then, eclectic style is the right option for your 4 room BTO interior design! To create a stylish eclectic-themed interior, you have to dare to be bold because eclectic is all about uniqueness.
To have your dream eclectic style, firstly, you need to know how much a 4 room BTO renovation cost because actualizing an elegant eclectic interior can be very tricky especially on the price part.
A Luxurious Comfort
If you're a huge fan of lavish and high-end stuffs, then you might consider yourself to apply a modern-luxurious style to your home. It will definitely define your personality very well! Since the name itself is "luxurious" we obviously have to shell out more a little.
Don't worry! There are various interior designer companies that provide a 4 room BTO renovation package for you! This solution will minimize the probability of bursting out of budget emergence!
Be Retro!
Who says that retro is outdated? Retro style interior is a home trend that becomes the perfect option for homeowners. This concept is applying many vintage features such as old scooters or bikes, quirky furniture and a classy rug. Retro-ish elements on your 4 room HDB will give you a nostalgic yet modern vibe!

Ovon Design: Come Get Your Dream Home With Us!
If you're planning on having your home renovated and need a crew who expertise in the interior design industry, Ovon Design is your best choice. Ovon-D is an interior designer in 53 Joo Chiat Place with various achievements such as Qanvast Supertrust 2021, SIDS and bizSafe3. With Ovon Design, we will fulfill your expectation of a dream house by serving legal submission, styling consultation, project management, and any other services! Give us a call!