Bored of seeing your HDB common toilet design, or your overall bathroom interior design? It is now the time for you to start renovating it! Doing a makeover to your bathroom is the best way to make your bathroom look more fresh and newly-made look-alike. If you are looking forward to enlivening a small
bathroom, here are several bathroom ideas Singapore that will inspire you
!
Before going straight to the main topic, let's understand more about the idea of a practical bathroom. Bathrooms are one of the most important areas in your home. It is a place where you can have some privacy. It is better for you to make yourself feel comfortable in your own bathroom. A simple HDB toilet design is the solution for maximizing the function of your bathroom through the interior design and the furniture.
Bathroom Interior Design Singapore
For those of you who need to have a toilet renovation design, do not hesitate to contact Ovon Design! You can obtain project management renovation based on our budget and interest. But, do you want to know more about practical bathroom design Singapore? Check these out!
Sliding Door Is a Yes
The minimum amount of space in the bathroom determines how you can save some space. Rather than using a regular door, it is recommended to install a sliding door. It does not always require a door handle, you can replace it with a sliding key as well.

Bathroom Hanger
Bathroom hangers or hanging hooks can be put behind your door. This can be useful for hanging stuff such as towels, clothes, shower puffs, etc. instead of adding more standing closets for towels, sticking the hangers behind your bathroom door is better!
Duo Shower Bath or See-Through Shower
If you want to have a bathtub, but still want to have a shower, do not be confused to choose between the two. You can have them both at once by using a shower bath combo. However, if you intend to have only a shower, try to install a clear shower screen or clear curtain. This way, your bathroom will look aesthetic.
Everyone Needs Mirrors!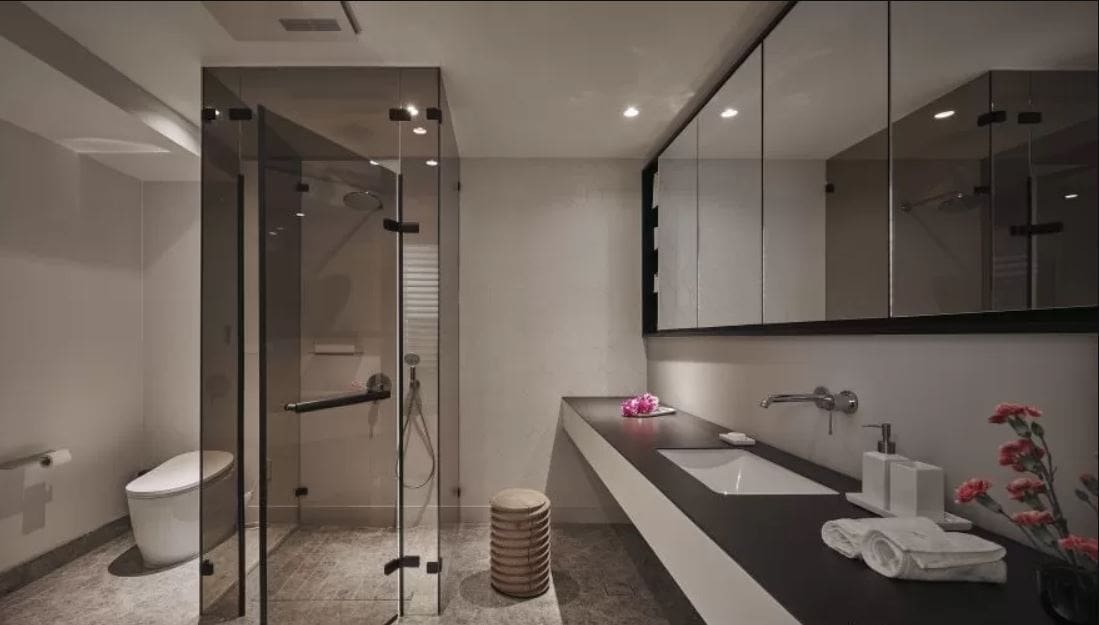 Mirrors can create a reflective surface that is able to spread lights. If you see a hotel toilet design, you will notice that there are large mirrors, right? This will definitely make the entire design bigger and fancier.
Try to install built-in storage behind the mirror. You have probably seen a lot of bathroom space that uses a lot of furniture, for example, to put on storage. Truthfully, you can utilize your mirror as storage as well.
Minimalist Design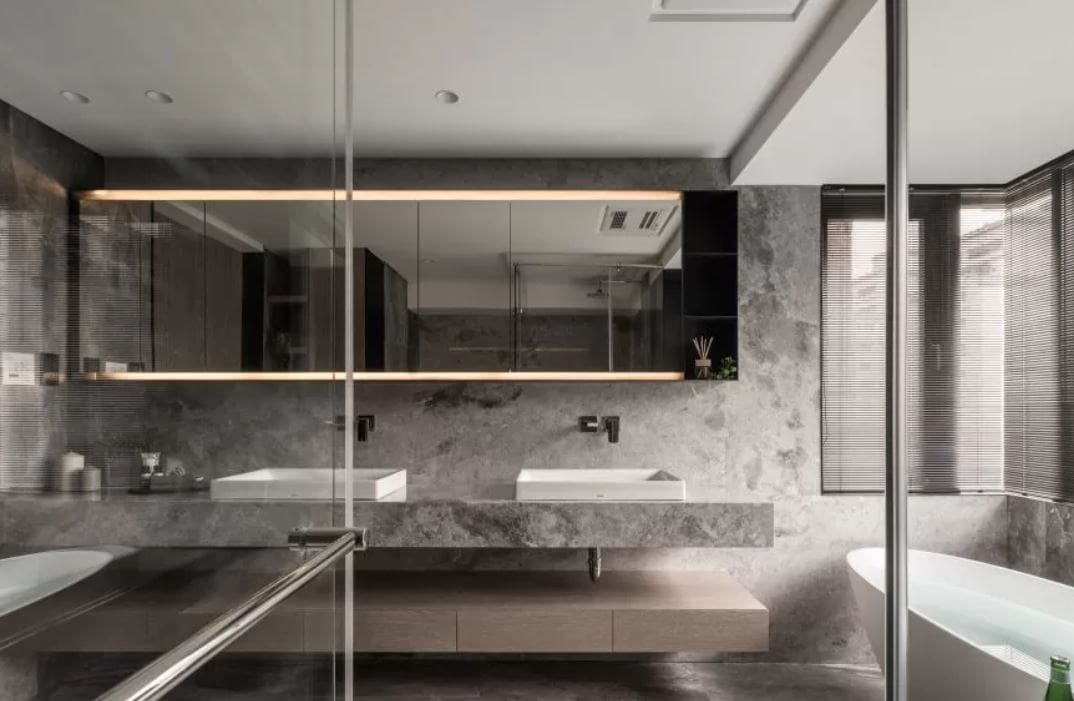 Black and white interiors can be one of the most favorite toilet renovation ideas Singapore. The monochromatic color palette can change your small bathroom into a more modern and luxurious style.
Slimline Furnishings
One of the bathroom elements that sometimes give an oversized finish is the sink. It will take up a lot of space in your bathroom. To overcome it, you can install a slimline sink! With Ovon Design, you can receive the best space planning and conceptualized design in Singapore!
Eye-Catching Pattern
Using a black and white theme interior design is a great way to present simplicity. But, if you want to make your bathroom more eye-catching, add some unique patterns!
Bring in the Lights!
Answer is, windows! Not only that mirrors can reflect light, adding windows to your bathroom will bring more natural light because the benefit of sunlight is good for your health and skin! Additionally, the bathroom becomes more breezy.
Floating Cabinet + Wall Holder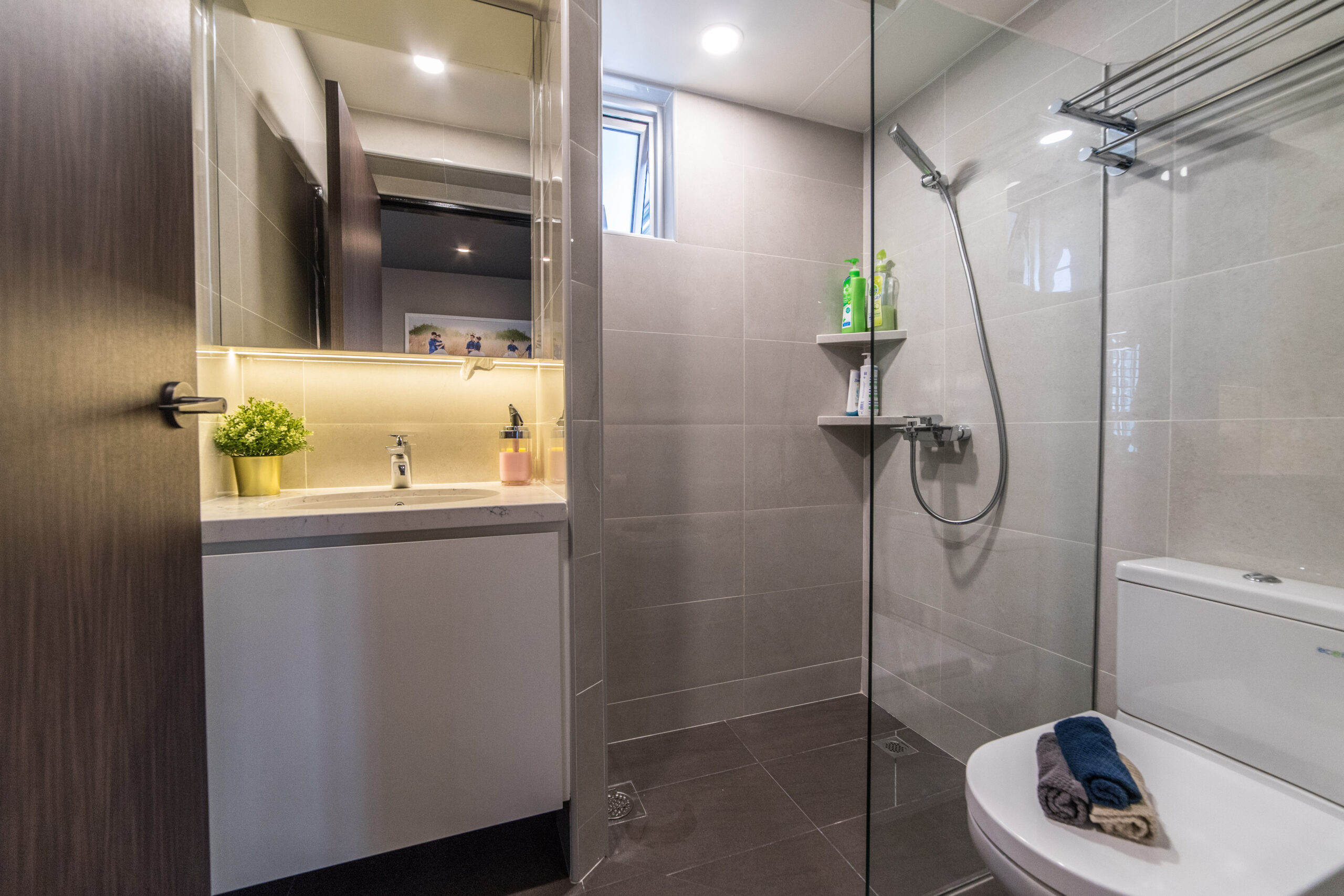 First, a floating cabinet will give a nice-looking bathroom design. Especially for HDB toilet ideas or small bathroom ideas in Singapore. Moreover, to save more space, installing a rack or wall holder is a good idea! This can increase the storage yet the space used will be minimized.
Ovon-D Interior in Singapore
Looking for an interior designer in Singapore? Contact Ovon Design right away! We provide practical bathroom ideas Singapore with budget planning. So, all the materials that you use in the bathroom will be efficient for you! Other than that, Ovon-D can make your bathroom design dream come true through our soft furnishing and styling consultation.
Are you ready for some new adventure? Ovon-D can be your company! Designing, renovating, and creating an interior design for your bathroom will be more fun and easier. Try to meet our team!
Get inspiration ideas from our designers.