Bathroom renovation is a significant investment that can greatly enhance the comfort and aesthetics of your home. In Singapore, where space and style go hand in hand, staying up-to-date with the latest bathroom design trends is essential. In this article, we'll explore the most recent bathroom design trends in Singapore, offering inspiration for your next renovation project.

How Importance is Bathroom Renovation?
Bathrooms are more than just functional spaces; they are sanctuaries of relaxation and rejuvenation. A well-designed bathroom not only adds value to your home but also contributes to your overall well-being. By keeping your bathroom in line with the latest trends, you can ensure it remains a stylish and comfortable retreat.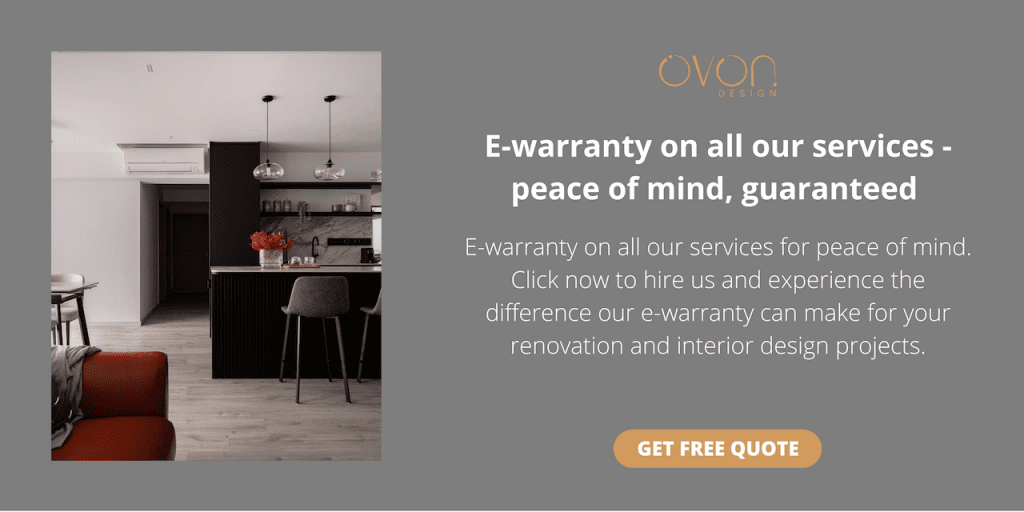 Overview of Latest Bathroom Design Trends in Singapore
Let's delve into the top bathroom design trends that are taking Singaporean homes by storm:
Trend 1: Natural Materials
Use of Wood, Stone, and Marble: The infusion of natural materials like wood, stone, and marble is a prevailing trend. These materials bring warmth, texture, and a touch of luxury to the bathroom. From wooden vanities to marble countertops, the goal is to create a spa-like atmosphere, where nature and relaxation meet.
Trend 2: Minimalism
Clean Lines and Uncluttered Surfaces: Minimalism is all about simplifying the design. Clean lines, uncluttered surfaces, and a focus on functionality are key elements. This trend emphasizes the use of space and design elements that serve a purpose, resulting in a sleek and practical bathroom.

Trend 3: Smart Technology
Integration of Smart Mirrors, Lighting, and Sound Systems: Singaporeans are embracing the future with open arms. Smart technology is making its way into bathrooms, with features like smart mirrors, ambient lighting, and integrated sound systems. These advancements aim to create a more convenient and personalized experience for users.
Trend 4: Bold Colors and Patterns
Use of Statement Tiles and Fixtures: Bathrooms are no longer just plain and white. Bold colors and patterns are making a splash. Statement tiles, vibrant fixtures, and unique accents are being used to infuse a more vibrant and energetic atmosphere into bathroom spaces.
Trend 5: Open and Airy Layouts
Use of Glass Walls and Partitions: Open and airy layouts are gaining popularity. Glass walls and partitions are being used to create a more spacious and inviting atmosphere in bathrooms. These elements allow natural light to flow freely, making the bathroom feel larger and more luxurious.
How do you plan a bathroom renovation in Singapore?
Renovating your bathroom can be an exciting project that can transform the look and feel of your home. Here are some tips and considerations for planning a bathroom renovation in Singapore based on the search results provided:
Set a budget: Before starting your bathroom renovation project, it is important to set a budget. This will help you determine what changes you can make and what materials you can afford.

Consider the layout: The layout of your bathroom is an important consideration when planning a renovation. Consider the placement of fixtures such as the toilet, sink, and shower, and how they can be arranged to maximize space and functionality.

Choose the right materials: Choosing the right materials for your bathroom renovation is important for both aesthetics and functionality. Consider materials such as tiles, countertops, and fixtures that are durable, easy to clean, and fit your personal style.

Lighting: Lighting is an important aspect of any bathroom renovation. Consider adding task lighting around the mirror and vanity, as well as ambient lighting to create a relaxing atmosphere.

Storage: Storage is an important consideration in any bathroom renovation. Consider adding built-in storage solutions such as shelves or cabinets to maximize space and keep your bathroom organized.

Hire a professional: Hiring a professional interior designer or contractor can be beneficial for your bathroom renovation project. They can provide you with expert advice and recommendations, customized designs, and access to resources.

What are the Benefits of Hiring an Interior Design Firm?
Expertise in Design and Layout: Interior design firms are well-versed in the latest trends and can create a bathroom layout that maximizes both space and style.

Access to a Wide Range of Materials and Suppliers: They have established relationships with suppliers, ensuring you have access to high-quality materials and fixtures.

Ability to Create a Cohesive and Stylish Look: Design firms excel at curating a cohesive and stylish look for your bathroom, making sure all elements work harmoniously.

Management of the Renovation Process: From planning to execution, an interior design firm can manage the entire renovation process, saving you time and stress.

Peace of Mind: With professionals at the helm, you can rest assured that your renovation project is in capable hands.
Conclusion
In Singapore, staying in tune with the latest bathroom design trends is essential for keeping your home stylish and functional. The trends mentioned above offer exciting possibilities for your bathroom renovation project. However, to truly bring these trends to life and achieve a stunning bathroom, consider enlisting the expertise of an interior design firm.
Ready to transform your bathroom into a stylish oasis that incorporates the latest design trends in Singapore? Contact Ovon-D today for a consultation and embark on the journey of creating the bathroom of your dreams. Your ideal bathroom is just a phone call away!