Are you considering a home or office renovation project and feeling overwhelmed by the design process? Perhaps you're unsure where to start, lack the time or skills to design a space that is both functional and stylish, or are struggling to coordinate different design elements within your budget. If any of these sound familiar, you're not alone. Many individuals face similar challenges when it comes to interior design. The good news is that there's a solution: hiring the right interior design company.
In this article, we'll explore what interior design companies are, the benefits of working with them, and most importantly, how to choose the right interior design company for your specific needs. Whether you're in Singapore or elsewhere, these tips will help you make an informed decision and turn your design dreams into reality.
What is an Interior Design Company?
An interior design company is a professional service that specializes in creating and enhancing interior spaces. These companies have skilled designers who can transform your living or working environment into a space that not only looks beautiful but also functions efficiently. Interior designers bring expertise in color schemes, furniture selection, space planning, and more, ensuring that your space aligns with your vision and lifestyle.
Benefits of Hiring an Interior Design Company
Professional Expertise: Interior designers possess the skills and experience needed to create functional and aesthetically pleasing spaces tailored to your preferences.

Time and Stress Savings: They take the burden of design off your shoulders, allowing you to focus on other aspects of your life or work.

Budget Efficiency: Interior designers can work within a variety of budgets, helping you make the most of your financial resources.

What are the common problems faced by customers?
Feeling Overwhelmed by the Design Process
Embarking on a design project can be overwhelming, especially if you're unfamiliar with the process. An interior design company can guide you through each step, offering expert advice and creative solutions.
Not Sure Where to Start
Many clients struggle with knowing where to begin when it comes to designing a space. An experienced interior design firm will conduct thorough consultations to understand your preferences and needs, providing a clear starting point for the project.
Lack of Time or Skills to Design a Functional and Stylish Space
Time constraints and a lack of design expertise can hinder your ability to create a space that meets your functional and aesthetic requirements. By entrusting the project to a reputable interior design company, you can ensure a well-executed design within your specified timeframe.
Difficulty Coordinating Different Elements of a Design
Coordinating various design elements such as color schemes, furniture selection, and layout can be a daunting task. An interior design firm excels in harmonizing these elements, resulting in a cohesive and visually appealing space.
Budget Concerns
Budget constraints are a common concern for clients. A proficient interior design company will work within your budget, offering cost-effective solutions without compromising on quality and style.
Empathy for Customer Problems
Interior designers empathize with the challenges clients face during the design process. They serve as partners, guiding you through each phase of the project, from brainstorming ideas to final installation. Regardless of your budget, they have the expertise to craft spaces that are both functional and beautiful.
How to Choose the Right Interior Design Company
Selecting the right interior design company is crucial for the success of your project. Here are some steps to help you make an informed decision:
Consider Your Budget and Timeline: Be clear about your financial limits and project schedule. Ensure the interior design company you choose can work within these constraints.

Research Different Interior Design Firms: Look for firms with a strong reputation, particularly in projects similar to yours. Explore their websites, social media profiles, and online reviews.

Review Portfolios and Testimonials: Examine their past work to see if their style aligns with your preferences. Testimonials from previous clients can provide valuable insights into their service quality.

Schedule Consultations: Arrange meetings with potential designers to discuss your project. This is an opportunity to gauge their understanding of your vision and whether you feel comfortable working with them.

Choose a Designer Who Understands Your Vision: Ultimately, choose an interior designer who not only possesses the necessary skills but also shares your enthusiasm for your project.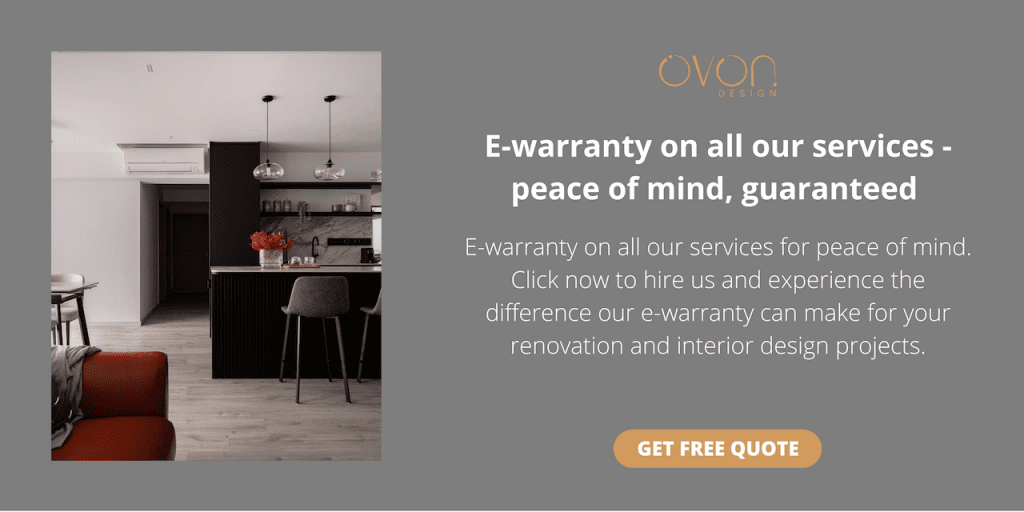 Hiring Ovon-D as your interior design company can save you time, money, and the stress associated with design projects. By considering your budget, researching firms, and scheduling consultations. Whether you're in Singapore or anywhere else, these principles apply universally, helping you achieve the interior space of your dreams. Don't let the challenges of interior design hold you back; take the first step towards a beautifully designed space today with Ovon.