Embarking on a BTO (Build-To-Order) flat renovation journey can be both exciting and daunting for homeowners. From budgeting to material selection and project management, the process is riddled with challenges. In this article, we'll explore common challenges that homeowners face when renovating their BTO flats and offer valuable insights on what to look for in an interior designer to navigate these hurdles successfully.

What are some common challenges that homeowners face when renovating their BTO flats?
Budgeting:

Determining a realistic budget and sticking to it can be challenging. Unexpected expenses can easily derail your financial plans.

Planning:

Lack of a well-thought-out renovation plan can lead to confusion, delays, and costly changes along the way.

Choosing the right materials and finishes:

Selecting suitable materials that align with your style, budget, and durability requirements is crucial but can be overwhelming.

Coordinating with different contractors:

Managing multiple contractors and ensuring they work in harmony can be a logistical nightmare.

Overseeing the renovation process:

Keeping a close eye on the renovation progress, quality of work, and timelines can be time-consuming and stressful.

What should homeowners look for in an interior designer for their BTO renovation?
When it comes to selecting the right interior designer for your BTO renovation, several key factors should guide your decision:
Experience
Prioritize designers with a solid track record of renovating BTO flats. They are more likely to understand the unique challenges and intricacies involved in BTO renovations.
Expertise
Ensure that the designer comprehends your style preferences and functional requirements. A great interior designer should be able to balance aesthetics and practicality while staying within your budget.
Communication
Effective communication is essential. Choose a designer who is responsive and proactive in keeping you updated on the progress of your project. Being able to convey your ideas and expectations clearly is equally important.

Why should homeowners hire Ovon-D interior design firm to renovate their BTOs?
Ovon-D is your trusted partner for BTO renovations, and here's why:
Specialization:

Ovon-D specializes in BTO renovation, making them experts in handling the unique challenges of such projects.

Proven Track Record:

With a history of crafting stunning and functional BTO spaces that cater to their clients' needs, Ovon-D has a track record you can trust.

Customized Solutions:

Ovon-D takes the time to understand your style, budget, and requirements. They tailor a design that not only meets but exceeds your expectations.

Comprehensive Project Management:

Ovon-D goes the extra mile by overseeing your entire renovation journey, from initial planning to the final execution. With Ovon-D, you can trust that your project is in capable hands.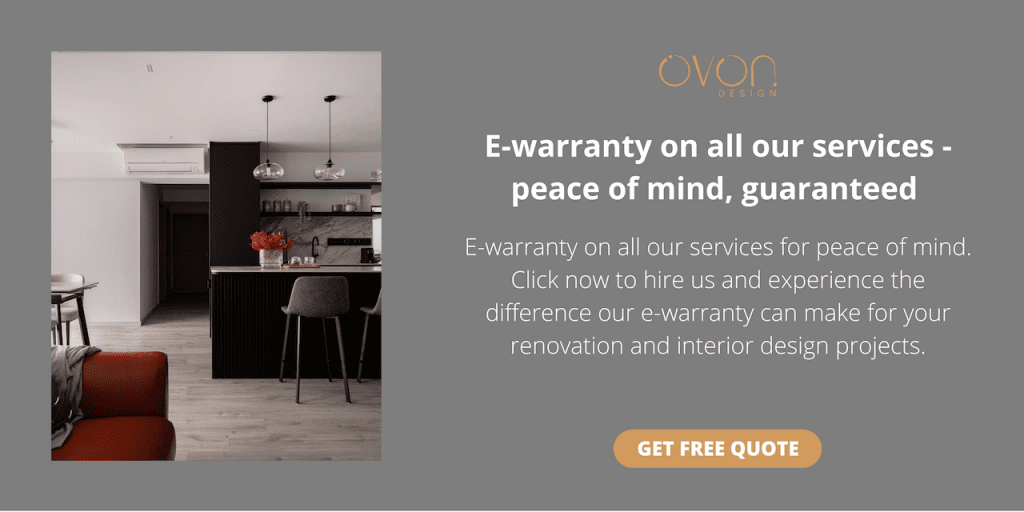 Renovating your BTO flat doesn't have to be a stressful and overwhelming process. By choosing Ovon-D interior design firm, you're not just hiring a designer; you're gaining a partner who will guide you through every step of your BTO renovation journey. Experience the difference that expertise, communication, and personalized solutions can make in transforming your BTO into a stylish and functional living space. Contact Ovon-D today to kickstart your BTO renovation project.