Attention, savvy investors! Are you ready to take the Singaporean property market by storm and maximize your profits? Did you know that a strategically planned renovation can boost your property's value by a remarkable 30%? If you're eager to learn the ropes of a profitable house renovation, you're in for a treat. In this comprehensive guide, we unveil expert insights and tips to kickstart your journey towards a successful property transformation.

How to Start Your Profitable House Renovation?
Embark on your journey armed with knowledge and preparation. Here's your step-by-step roadmap to renovation success:
Do Your Research
Begin by delving into extensive research. Familiarize yourself with the current property landscape in Singapore, identify your target market, and explore various renovation options that align with market trends.
Set a Budget and Timelin
 With a clear vision in mind, establish a realistic budget and a well-defined timeline. These critical elements will serve as your guiding beacons, ensuring your renovation remains on track and within financial boundaries.
Hire a Professional
If the renovation process seems daunting or time-consuming, enlisting the expertise of a professional interior designer is a strategic move. A skilled designer will collaborate with you to craft a space that seamlessly merges style and functionality, tailored to your target market's preferences.
Get Everything in Writing
Once you've partnered with a contractor, safeguard your investment by documenting every detail. A comprehensive agreement should outline the scope of work, project timeline, budget allocation, and payment terms, minimizing the potential for misunderstandings..

How an Interior Design Firm Can Help Investor?
Step in the interior design firm – your key to unlocking successful property transformations:
Tailored Renovations:

A seasoned interior designer possesses a deep understanding of the Singaporean property market. They'll curate renovations that amplify value and appeal to your target market.

Budget Adherence:

Design professionals meticulously align your renovation aspirations with budgetary constraints, ensuring cost-effective yet impactful enhancements.

Timely Completion:

With an experienced team at the helm, you can count on your renovation project being executed on schedule.
Investors, the path to a profitable property renovation is illuminated with the expertise of an interior design firm:
Stress-Free Transformation:

Bid farewell to renovation-related stress as experts guide you through every facet, leaving no room for uncertainties.

Value Maximization:

A well-versed interior designer ensures that each renovation element is a strategic investment, poised to elevate your property's value.

Timely Triumph:

Partnering with a design firm propels you towards a successful renovation, ensuring punctual completion and tangible returns.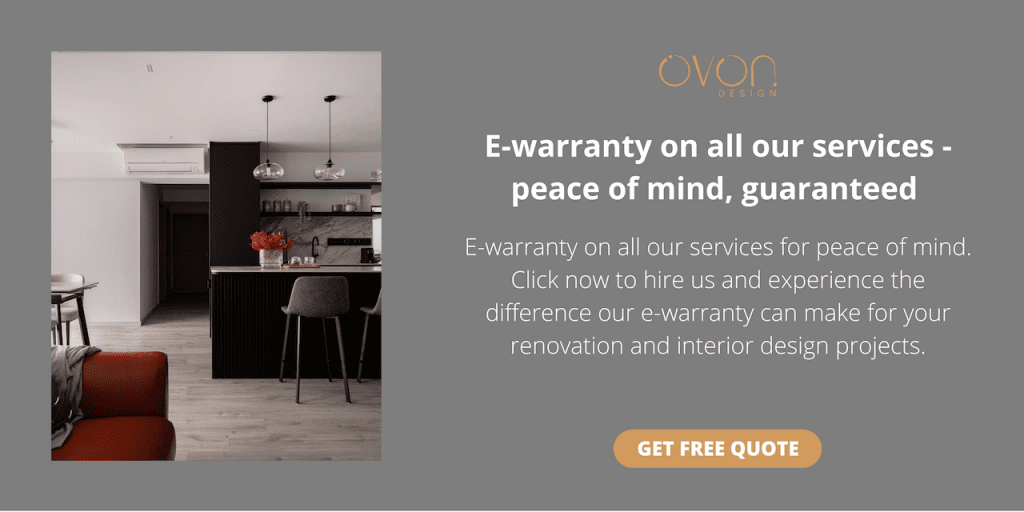 Why delay? As an aspiring property market dominator, your roadmap to success begins with an interior design firm. Elevate your investment potential, embark on your renovation journey, and secure your place at the forefront of the thriving Singaporean property scene. Contact an interior designer today, and let the transformation begin!