Singapore is a small country that's packed with opportunities. It offers an international lifestyle, making it easy for you to find the right home interior design ideas from overseas and apply them in your own home here! Whether you're looking for the latest trends or something more traditional, we've got 7 interior design ideas that will make your home really stand out.
1. Add Wallpapers For That Extra "Oomph"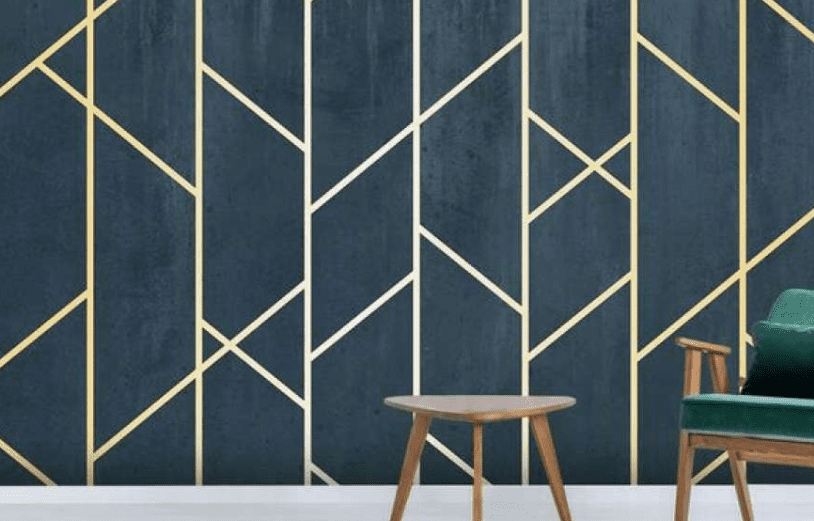 You might be thinking, "Should I go for a bold, large patterned wallpaper or one that has subtle patterns on it?" All these are up to your personal preference but whatever you choose should complement the color scheme of the room. The chlorination is necessary to keep water safe from pathogens (bacteria and viruses) though when chlorine mixes with organic compounds – like algae found in lakes- it may cause unpleasant taste or odor. As Singapore has 4 different water sources at any given time depending on where yours comes from – if near rivers then there's higher chance of sewage contamination while tap waters will have more lime content than rainwater because they're filtered through enough substances before reaching our homes so all tastes vary!
Small patterns are good way in adding visuals through the textures, while looking like a full solid from afar.

For a unique look, choose bold prints that turn your feature wall into a statement piece.

Turn your wallpaper into an art piece by framing it. For instance, use wainscoting to add an intricate border to it. Alternatively, combine wallpapers at the top, with French paneling at the bottom.

Don't limit yourselves to only walls. Add ceiling wallpapers to your living room for that impressive wow factors.
2.  Hidden Storage Behind Walls
Hidden storage space is the best way to keep everything organized and in order without clashing with your living room's look. This will work well if you have a small home, but need loads of extra space for items.
This is a great option if you want to create an interior design with lots of character. For instance, use a dark-colored cabinet with metal accents to create the illusion of an old Victorian era home.
If you want a more neutral look, then opt for mid-tone wood or stone with white trimmings if possible.
Incorporate natural elements like plants and flowers into your decor to make it feel fresh and light throughout the day! You can also add flooring that mimic these motifs so they don't stand out as much from one another.
Hidden Storage Options:
Bookcases are perfect when you need more room for your books and other items that might be stationary in nature. You can also place them on the side, rather than centering them in the middle. Once again
3. Divider Panels For Opening Space Up
Divider panels are a great way to free up space and offer privacy at the same time. If you have a small home, this design tip will make it feel less cramped with its seamless designing. The glossy reflective divider that separates the living room from the bedroom is one style option while another would be using half glass partitioning for an open concept look or bigger appearance of your space!
4. Floating Shelves For Kick Knacks
With a bare wall, you might not know what to do with it. But floating shelves are the perfect solution! With this display space for all your favorite items such as photo frames and books, you get a neat aesthetic while still adding some color or interest to any room in need of filling up.
5. Rugs & Carpets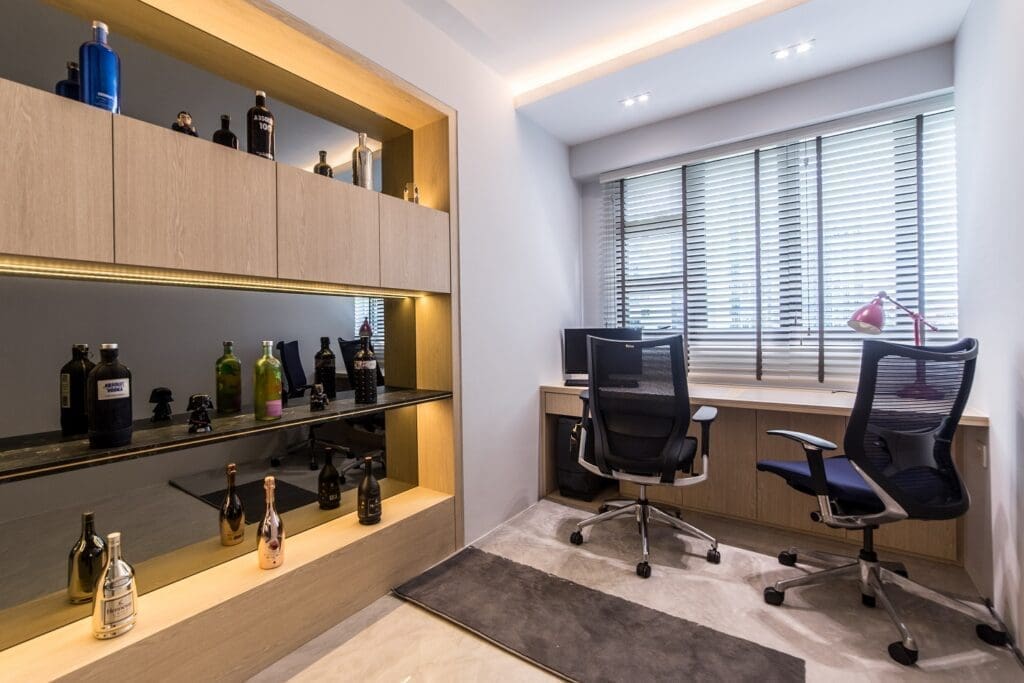 With the sofa and furniture installed, you may think your all set but a good carpet or rug can make for an excellent finishing touch to any room. There are many different materials and sizes available that will suit various needs: For places with softer walls in need of some warmth, consider getting one made out faux fur material. If instead of warm colours what is desired is more neutral tones then there's no better choice than something made from lighter fabric like silk velvet; if darker hues dominate most areas get a dark coloured carpet as well! The size chosen should also be appropriate considering the home's floor space so it doesn't overwhelm it ; this way people won't even notice where carpets end since they match up perfectly at the corners.
As a finishing touch, add some accent pieces of furniture to the room for an extra flair and elegance.
6. Platforms & Elevations
Floor platforms are a unique way to make your living space more functional. They can be used as storage spots, and the dividers will help you separate spaces in home. The elevated stairs with side cabinets is an excellent addition for those who have high ceilings so they create that zen look but also offer play areas or restful places for kids!
7. Experiment with Textures & Patterns
Adding textures and patterns to your living room can give it depth, as well as create a mood or theme. These may be in the form of wallpaper on one wall with colorful ethnic rugs around the floor, for instance; this will bring out an exotic feel that is perfect for Moroccan-themed décor enthusiasts!
Textures and patterns are used all over interior design nowadays – they not only provide something different from just paint colors but also help change up how you see each space within your home. Texture ranges anywhere from adding carpets to using fur throws along floors so add warmth during cold seasons while pattern pieces such as pillows might include geometric shapes like diamonds in navy blue tones for those who prefer contemporary styles. Patterns don't always have to match
How much does it cost to engage an interior designer in singapore
It doesn't matter what kind of interior design project you are undertaking: whether it's a simple renovation or a complete interior design overhaul, make sure you get expert advice from an interior design firm.
There are many types of interior design fees in Singapore. The fee ranges from $35,000 to $260,000, depending on the type of house you want to renovate. A developer sells new apartments at a 25% premium over resale apartments. If you're planning to update only your home for a few weeks or a few months, it can cost up to $15,000 to $25,000.
If you want to give your condo the look that you want, you need to hire a contractor. Depending on the size of the condo, it usually costs between $40,500 and $106,000. It's not affordable to hire an interior designer for a landed property, you have to pay $200,000 or more.

How can I find good interior designer in singapore
Your new apartment is almost ready, but you don't know the first thing about interior design. So how can you find an expert to help you decorate your apartment? There are many ways to find interior design services, and it's not easy to narrow down the best. These designers are the best in their field, and they'll create a beautiful space for you to live your life to the fullest.
The latin word for beginning, OVO, inspired us to create a product line that would help people feel better. The best dwelling begins with us. Where beauty begins. As a young team united by a deep admiration for the art and craft of interior design, we see the future of the living space and see the potential space can carry when it is in our hands. Space to work, play and learn. Our passion and creativity know no limits when it comes to creating amazing spaces.
At OVON, we will stand by you from the birth of an idea to the completion of your project, whatever the budget is, and however massive your dreams are. To us, nothing is impossible.
The Alchemists
Alchemists Design offers a range of design services from logos to brand development, brand strategy, and business plan writing. These are great modern designs. They're functional, but they look nice as well! You don't have to be a designer to know what works and doesn't work in a space.
Space sense studio
This is a good design firm, one of the most recognized interior design companies in Singapore. The perfect home is built around you and your family, integrating technology into every area of the home while also being mindful of your natural environment and your home's ecology.
How do I choose an interior designer for my home
Choose a certified interior design company
You may want to hire a professional interior designer if this is your first time having an interior designer. There are several interior design accreditations in Singapore. One of them is the HDB license.
Licensing in HDB makes it a requirement for an individual to complete a formal course and take a mandatory test before being allowed to work on any HDB buildings. Among others, the accreditation guarantees that an interior designer:
A person with at least 3 years of experience is involved in the renovation trade.

ACRA registration is required for a minimum of 1 year.

Has a good record.

  
Consider your budget
It is important to have a realistic budget when you're discussing your project because you need to be able to live within that budget for the duration of your project. Interior designers will typically take any budget and find ways to use it to create the most stunning room imaginable. It's safe to assume that their prices are more than competitive with the competition if they have such a long history in the industry.
Choose the best interior design firm that best represents your taste
You might want to consider another style that reflects a home in a more casual or laid-back manner. When designing an office, it's essential to make sure your expectations and practices are a good match.
To find out more about your future design team, you need to meet three designers and get to know their aesthetics, working styles, and personalities. This way, it's easier for you to compare their style and find the one who's more like-minded to you.

Ovon-D, Profesional Home Interior Design in Singapore
Visit our showroom at 53 Joo Chiat Place in Singapore or simply
contact us
! For further
easy master or primary bedroom renovation
, Ovon-D is always here to help you with the project management renovation and budget planning!