All ready to renovate your HDB flat? Before you get started, familiarise yourself with these steps to enjoy a smooth and hassle-free process. Here are things that you need to know!
HDB Renovation Guidelines
The Housing and Development Board (HDB) in Singapore has gradually introduced some new HDB renovation guidelines for HDB renovation projects. The changes include a reduction in the number of allowable renovations, mandatory fire and anti-flooding measures, and a 20% increase in the minimum lot area. The new rules will also affect the type of materials used during renovation projects.
For many property owners these changes might seem unnecessary or too rigid, but they're actually a big step towards ensuring safety among homeowners. There's also a greater chance that renovations will meet the quality standards set by the HDB, so you can rest assured that your home is safer than ever before.
HDB Renovation Permit
Certain works necessitate written approval from HDB, which is provided in the form of HDB renovation permits. These permits will be required before any renovation work can begin. If you do not obtain a permit before beginning the renovation work, HDB will consider it unauthorized work and will require you to restore your flat to its original condition.
Certain precincts with unique designs and special features have additional guidelines that you must follow. Even if you don't need a permit for the work, you must follow the guidelines that govern it or HDB will ask you to remove it and restore your flat to its original condition.
Please keep in mind that the renovation contractor you hire must be listed in the Directory of Renovation Contractors, which means they are aware of HDB's requirements when carrying out renovations and are concerned about the structural integrity of the building.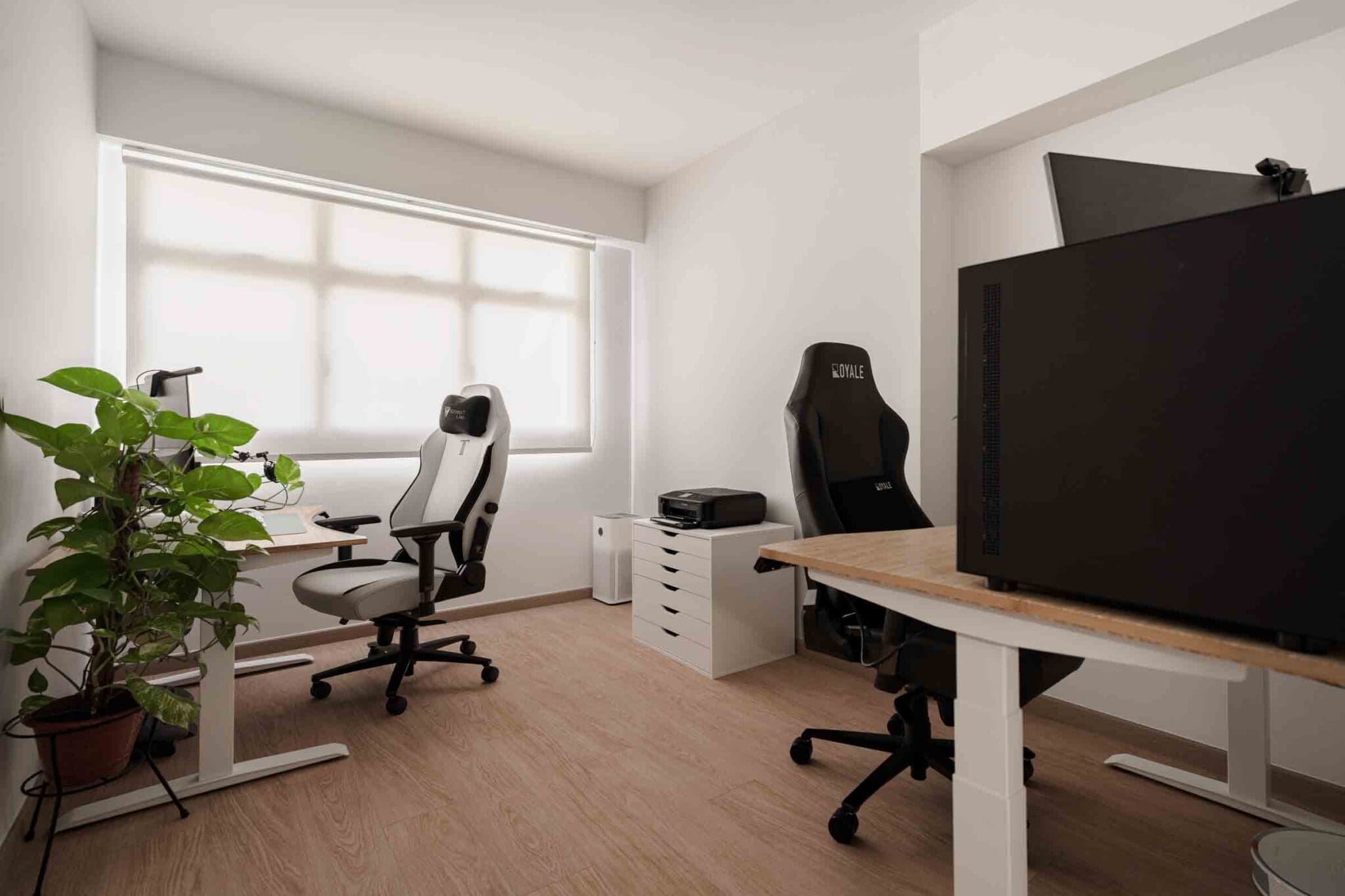 HDB Renovation Timing
Your contractor has no control over how long it takes to refurbish a HDB/Condominium. We know, it's shocking. In fact, homeowners determine the whole duration of a renovation job. Actual HDB renovation timing take only two months. Many HDB and condominium residents in Singapore, on the other hand, delay the process.
There's a certain flow to follow during a renovation. Here's a shortcut inforgaphic of a hdb renovation timing in Singapore. Here's an estimate of how long it takes to renovate different parts of your home.
However, take note that the timeline is just an estimate. Every homeowner's requirement is different. For example, if a homeowner does not require carpentry services, then we can save 2 weeks of renovation. Or if a homeowner has given us a tight timeline to work with, perhpas they urgently need to move into their new home, then we'll have to speed up the process.
Furthermore, Singapore's Housing Development Board (HDB) grants a one month renovation permit, and allows for an extension of 1 month. Of which only three days are allocated for noisy renovation works like hacking of tiles.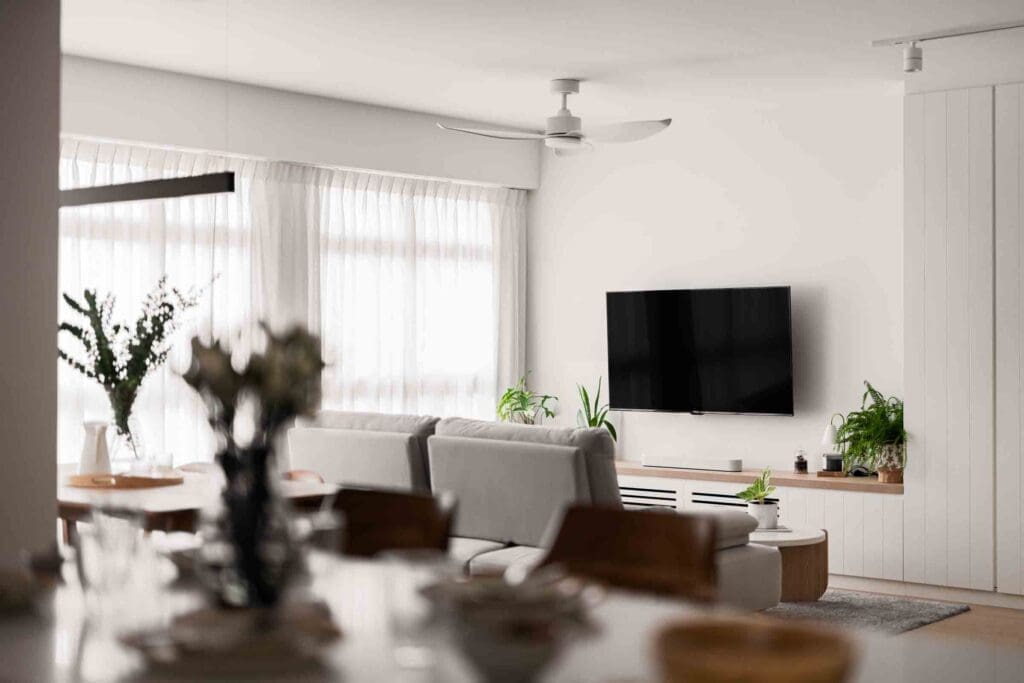 6 Steps Before Renovating HDB
It may be both exhilarating and intimidating to renovate your first house. After all, you may have been planning and saving for years in order to purchase the ideal property. An HDB renovation can cost anything from $32,000 to $39,500 depending on the extent of the work. Understanding the full process from beginning to end can assist homeowners in comprehending the design process, costs, and schedules.
So, here's a simple guide to help you get ready for your first HDB renovation while also having a good time.
1.Check the Timelines
This one is fairly obvious as it helps you estimate your your move-in date, especially for a resale HDB. As costs for alternate housing while your HDB is being renovated can quickly add up, don't ignore this factor while making a decision about which professional to choose.
2.Assess Your Scope
If you answer this one right, it will answer many other questions that follow—from how much money you need to set aside to the kind of firm you engage and even the time it will take. Do you need a new kitchen? Can your existing furniture be reused? Do you need some structural changes?
This gives you a fair idea of how extensive the renovation needs to be.
3.Choose an Interior Designer or a Contractor
Typically, freelance interior designers (ID) and ID firms are relatively costlier than a contractor. With the former, you can expect more personalised designs, and the latter is usually budget-friendly.
Apart from these traditional options, you can opt for Livspace. We are a one-stop platform for interior design.
4.Sort Your Finances
Most renovations complete within 12 weeks and up to 95% of the payment for you HDB renovation will need to be made during this period. It's time to look at your finance options—savings and home renovation loans—even before you contact an ID firm. This calculation would help you plan your finances and also give you an upper limit for your spending.
If you like to play safe, don't forget to set aside some money for home insurance as well—no, your mandatory HDB fire insurance usually does not cover furnishings and renovation. On average, a homeowner spends upwards of $20,000 on an HDB renovation. However, this varies greatly based on the size of the HDB and the scope of work involved.
5.Finalise the Design
Finally, sit with your designer to finalise a picture-perfect design. Pick your materials, select your furniture and fittings. As you'll have a fair idea from your research, you can negotiate the cost of the renovation. Always prefer quality over cost and pick the best. If budget is a concern, invest in items from your priority list and then decorate your home gradually with the other items from your design.
6.Get Your home furnished
While the first steps seem exhausting, the execution is where all the magic or disaster happens. So, mandate regular updates from your designer and contractor about the progress of work. It's the firm or designer's duty to ensure no damage is caused to any existing interiors or furniture.
Once you keep all these points in mind, your HDB renovation can actually turn into an interesting project. Remember that the key is to hire the right experts and then relax as your home gets ready.
3 HDB Renovation Design Ideas in Singapore
You've always had this mindset that having an affordable space in Singapore means not being able to invest in its aesthetic value. Interior design and a affordable HDB flat just don't go hand in hand. You simply can't have everything, can you? That's where you're wrong. Everyone deserves a home designed especially to cater to their tastes and preferences, a place they can be excited about going home to. It doesn't have to be expensive. You don't have to stress yourself over buying this or that because great design doesn't have to come at a high cost.
To prove our point, allow us to show you the most popular HDB interior designs we've done. You can integrate this to transform your home or you can give us a quick call to talk more about how you're envisioning your HDB flat to be.
3 Room HDB Renovation
3 Room HDB are one of the most popular options amongst new homeowners thanks to its appreciation and availability, but optimising its space can be tricky. Whether you're a die-hard Muji fan or a film buff that lives and breathes Wes Anderson's movies, you can take a leaf out of these designs to make your abode really feel like home.
It's no secret that 3-room BTOs are small, and with the standard HDB flat layouts we're given to work with, trying to renovate your new home can feel pretty limiting. But that doesn't have to equate to boring spaces or cluttered interiors. From storage hacks to beautiful and thoughtful design-planning, there are many ways to make use of the space you're given. Read on for inspiration on how to make the most out of your new home.
Install carpentry with hidden storage compartments
While some would argue that clutter makes a home, having things strewn about would no doubt make your home look messier. Take notes from this clever home in Bidadari – it features a bay window seat with (hidden) storage compartments and a raised platform with a platform-to-ceiling wardrobe in the bedroom.
Create a mini walk-in wardrobe in your bedroom
Typically, walk-in wardrobes take up a whole room, but this contemporary home managed to include one by partitioning their bedroom in half, with their sleeping area on a separate raised platform.
Use matching laminates for a cohesive look
Instead of demarcating your living and dining spaces, consider blurring the lines with matching laminates for that seamless look. This Toa Payoh BTO added storage seating from their TV console-cum-feature wall and power sockets for a cozy, cafe-like WFH corner.
Consider flexible built-ins
Planning your home layout in accordance to how you would live in it day-to-day gives you more clarity on what you want to prioritize in your home. If you spend lots of time in the kitchen, install bulky kitchen appliances like your fridge and oven outside instead.
Keep it bright with a light colour scheme
Another hack to make your humble abode look bigger and more inviting, is to keep it bright and airy. Having a light colour scheme helps to make your home look more cohesive and spacious.
4 Room HDB Resale Renovation Ideas
We love designing new homes where the homeowners give us freehand to add our own experimental twist. This 4 room hdb renovation ideas has tons of examples showcasing what happens when form and function meet.
The first thing to admire in this 4 room HDB flat design layout is it's striking colour scheme. Picked dark navys to adorn the 4 room hdb renovation ideas. The foyer wall and the kitchen cabinet are painted in deep blues while the yellow contrasts it beautifully.
The dining room has a lighter blue wash to it. This helps it to fit in as a transitional shade and is a great way to create a soothing environment in this 4 room HDB. On that note, the couple had not noticed the kitchen backsplash until the last day and it took them by surprise. It was, of course, love at first sight!
One of the 4 room hdb renovation ideas, suggested by the designer, was to have a fuss-free bedroom.If you open for experimentation, add a quirky wallpaper to give this soothing bedroom a focal point. The nightstands on either side of the bed have oodles of storage while a dresser stands on the same wall.
5 Room HDB Renovation Ideas
From household shelters to suggested studies, 5-room HDB flats may run the risk of looking too cookie-cutter. Not a fan of seeing your home resembling the ones next door? This is how you can make your home stand out from the crowd!
Hacking down the walls in your flat
It goes without saying that 5-room flats come with more square footage. But, if you fancy an even bigger space, try hacking a bedroom down and making it part of your living room. This way, you'll have plenty of space to host gatherings!
Create a dual kitchen space
Flush your bigger appliances, such as the fridge and coffee machine, into custom cabinetry so they take up less space. By keeping them close together, it'll also make it a lot easier to brew a cuppa and grab some cake for your guests when they come over!
Adopt an unconventional bedroom layout
This beautifully renovated property changed things up by half-hacking a wall and turning the bedroom into a walk-in wardrobe instead. Nestling the bed behind the half-hacked wall ensures the bedroom still retains a touch of privacy.


We hope you found this guideline useful! If you have another question, then look no further. Book an online consultation with OVON Design today. OVON Design will helped you answer the question of HDB renovation
Guidelines and Practical Ideas before Renovating your HDB.
227A Ang Mo Kio St 23
2-room HDB Bto
| | |
| --- | --- |
| Project Location | : 227A Ang Mo Kio st 23 |
| Property Type | :2-room HDB bto |
| Bedrooms | : 1 |
| Area Size | :480 Sq Ft |
| Style | : Contemporary |
| Budget | : S$33,000 |
| Renovation Duration | : 6 weeks |
| Designer | : Raymond, Gary |
| Works Included | : Flooring, Plumbing, Electrical Rewiring, Painting, Feature Wall, Carpentry, Wallpaper, Aircon |