Having a magnificent look for your bedroom is mandatory for your home. Bedroom is supposed to be the best place for you to spend your most time. However, are you currently looking for Singapore bedroom design ideas for your bedroom?  Well, this article will definitely help you to make it happen!
You might be wondering how to make your HDB look spacious and comfortable, even if you only have a 3 room HDB bedroom design for your home. No need to worry about having a small bedroom in your house because you can still transform it into a place you have always wanted!
Choose Your Theme
Deciding a theme to liven up a small space not only provides the room a more harmonious appearance, but it may also be very efficient and practical. Applying a theme allows the space more coherence and a less cluttered look. This is why you should consider the right theme that matches your taste first when you are looking for master bedroom ideas Singapore.
A minimalist living room and bedroom theme can be a good option for you to avoid a cluttered look in your bedroom apartment. This theme will help you to avoid the feeling of being caged in by the four walls of your bedroom by recolouring your entire room (including floor and ceiling) the same color. 
Vertical Space is a Must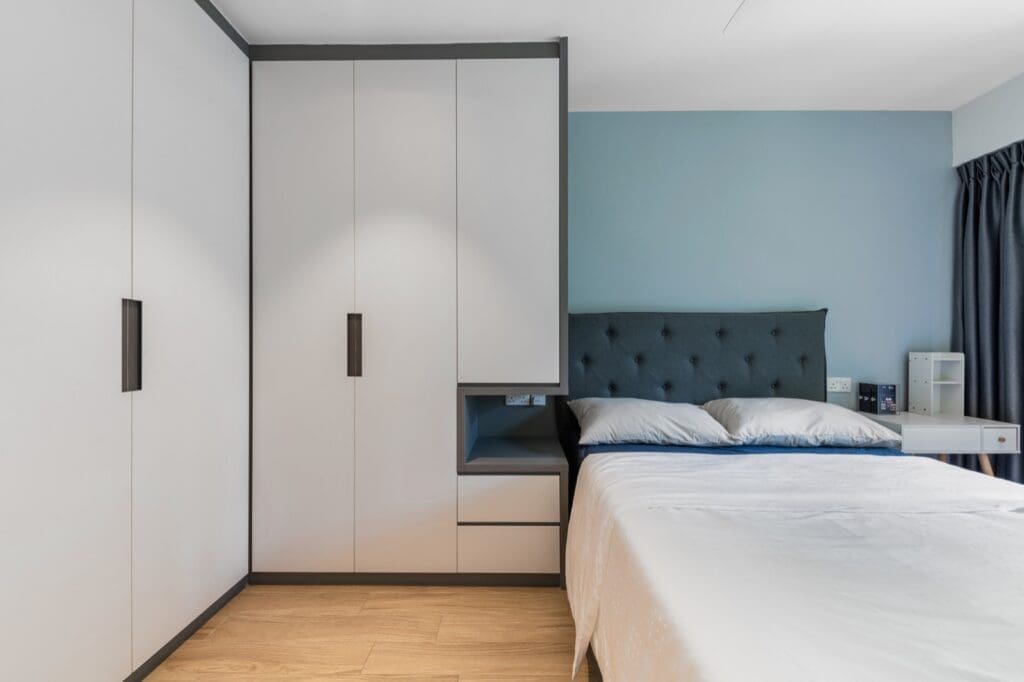 When you are wondering about a small hdb bedroom design for your bedroom, think vertically. 
You may not have much floor area, but by utilising the walls all the way to the ceiling, you maximize the space you have while bringing the eye upwards, making the area look even bigger. Moreover, if you are looking for HDB bedroom design with study table, you also have to consider your bed placement very well. 
Keep Your Bed Low to the Ground
A low height bed actually allows more room to breathe above it, making the room seem and feel larger than it is. By keeping it low to the ground, it also will make the ceiling look higher. The lower you keep your bed, the larger room you will have. 
Optimize Your Furniture in Scale
When people are looking for small bedroom ideas Singapore, they would think that a small room only has tiny furniture. Well, it is totally wrong! A small room doesn't have to imply small furniture, however, you will need to choose items that meet in proportion and are suitably fitted for your room.
Go For Loft and Platform Storage
Loft beds are a good way to make extra room in your small HDB. To explore converting the area beneath into a closet is also a good option. You won't have to cut out additional room to fit your clothing if you combine the bed and wardrobe area into one. 
Get a Low Height Furniture
Another tip to make your room look bigger is keep your furniture low height. Low-height furniture is considered as something that can be placed directly on the floor or a short distance away from the ground; it also has shorter legs.
Use Hang Mirror
Thinking about how to add a big mirror in your room for you so you can check out your outfit from head to toe but your room doesn't have any space left? No worries, because you can use a hanging mirror on your wall. Mirrors are one of the simplest ways to create a space larger than it actually is.
Track Light is a Good Option
Lighting is important for brightening up your house. But, what if your HDB home does not always get enough natural light? Well, to solve that problem you can optimize for track light. Track lights are an effective way to highlight or brighten up your space. 
Use A Tall Headboard
When your room is limited, you can use clever headboard ideas to make it look more spacious. You should avoid filling it with a huge, heavy headboard that takes over the space. 
Choose a visually light design with a glamorous pattern. A tall headboard that draws the eye upwards helps you to create an illusion of a larger space, and its color contrasts well with the shade of the walls.
Dare to Go Functional
Having a small and simple bedroom is good, but why not try to go more functional in your bedroom when you are looking for a 4 room HDB bedroom design? You can add efficient furniture in your room that contributes to the space's open aspect, providing a larger feeling of space in the limited space.
Now you know these tips will help you in creating your bedroom design. However, if you are still confused about hiring a professional to help you, a reputable interior design firm like Ovon-D might be the best choice. 

Don't Miss Your Chance to Transform Your Dreamy Design into Reality with Ovon Design!
Ovon Design will help you to bring your dream master bedroom design Singapore and make it real. We will also provide you with the best HDB small bedroom design ideas for you. We are a HDB registered renovation contractor with our experience in providing renovation, sketching, consultation, project management, no more worries about your bedroom interior design! 
You can check our previous portfolio on our website or kindly visit us at 53 Joo Chiat Place, Singapore.