If you are in the market for a new condo, then it is important to make sure that your living quarters have all of the modern amenities. This includes everything from high-speed internet access to contemporary furniture and decorating styles. In this post, we will go through 10 contemporer condo living room ideas in singapore!
To start, we should mention that the living room is one of the most important parts of any condo. Not only does it provide space to entertain guests and relax after a long day at work, but it also sets the tone for everything else in your home! For this reason, you will want to get as much input on what goes into the room as possible.
If you would like to add a

modern luxury interior design

, then it is important that furniture and decorating styles are all considered at once. For example, if your living room only has white walls with nothing on them, then the space becomes too stark without any color or life in it! You will want to find some accent colors for your walls, furniture and other decorating elements to give the room more life.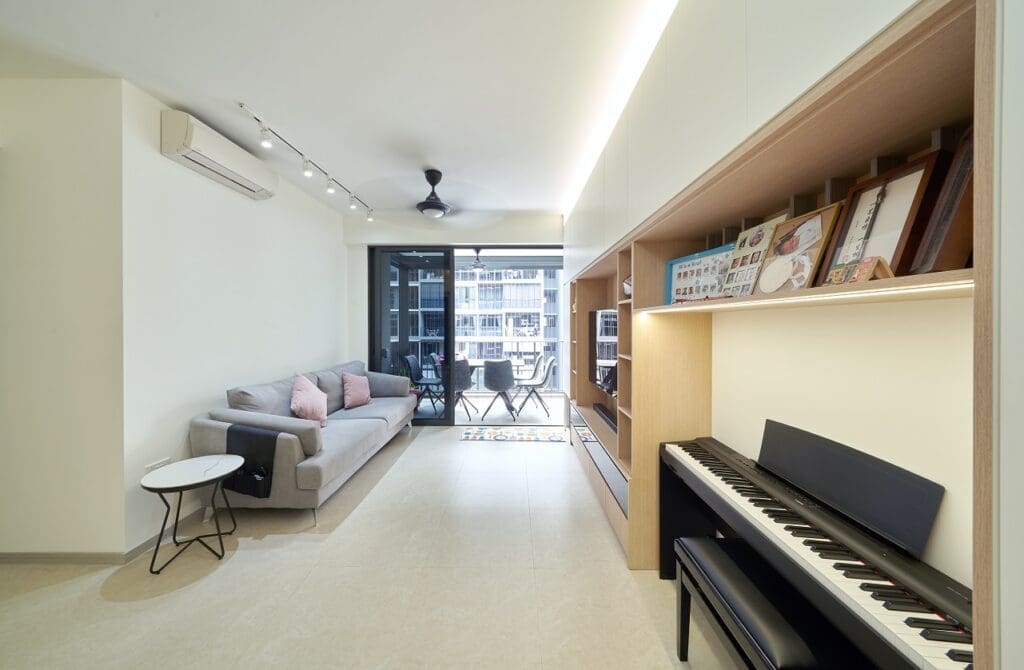 Paint It White
White walls are more than just a trend for clean, bright spaces—they're also among the clever tricks that designers use to make rooms seem larger. Becca Interiors shows us how this is achieved by pairing sleek white paint with natural colors in furniture pieces. When it comes time to choose your color palette, stick largely to neutral shades like tan leather and wood while incorporating colorful accents into artwork or décor items instead of clothing or accessories which can clash against other elements of the room's design.
Embrace Natural Light
White window shades not only keep your room bright, but they also let more sunlight in. Goodbye to blackout curtains and those outdated blinds that came with the apartment; sheer or woven fabrics still provide plenty of privacy while keeping rooms light! This is especially important for south- and west-facing windows which receive a lot of natural lighting during the day.
Create Visual Height
If your ceilings are low and traditional lighting is too boring, opt for a white pendant light that won't visually clutter the room. The visual height will attract attention up to make an area feel larger than it really is. With this type of fixture blending seamlessly into the ceiling, you can enjoy airy aesthetics from top-to-bottom in your home!

Reflect With Mirrors
One designer's clever idea was to use mirrors in small spaces. Studies show that bright, shiny surfaces are able to bounce light around the room and make it appear larger than if there were no mirror present at all. In this living room by Jessica Nelson Design, they matched a fireplace's finish with their coffee table for an elegant uniform feel across your space while being low-lighted.
In small, dark hallways or those corners of rooms that don't see much natural light, use a full-length floor mirror that spans the wall's height to add visual space.
Layer Lighting
Layered lighting joins an overhead source with lights at eye level, similar to lights, sconces, and one of a kind table pieces. In this Upper East Side space, Bespoke Only uses uniform circle formed lights at different levels to make visual interest. A globe light lights up the room's more obscure corners, while hanging pendants and an enormous mirror point out tall rooomsfs and a spacious living room.
Keep It Clear
In the event that your space is particularly restricted, pick clear furniture that can practically vanish in the room. Pieces made of glass, lucite, and acrylic all add a component of class with sparkly surfaces and a smooth completion. Pair clear furniture with your most loved vivid stylistic theme and normal accents for a look that tidies into those interesting corners without contrasting splendid dividers.

Opt for Open Shelving
Rather than hiding your best dinnerware behind outdated cabinet doors, strip the hardware down and opt for open shelving on upper cabinets. Open shelves make your space feel larger and give the appearance of additional height. In this kitchen by Casa Watkins Living, natural wood shelves replaced traditional cabinets to add an airy feeling that also improved visibility in this small-sized home's beautiful Tuscan style decorating scheme with warm colors like tan walls accented by green hues throughout.
Forget the Table
Islands are great for small kitchens with limited space. If you don't have room to spare, use an island's surface area and stools on a night when everyone is gathered in the kitchen during your usual dinner time as seating around it becomes cozy! Milk & Honey Life paired this white-walled kitchen island with plenty of wood details that create warmth, save space by tucking away chairs, and add cooking surfaces.
Go Green
I know that not all people see plants as a necessity. Some are more green in their thumbs than others, but it's always nice to bring greenery into your space even if you don't have the luxury of an outdoor view. For those who aren't natural plant parents or for those with zero gardening experience, there is another option: faux leaves like these ones from Macy's! These can be put anywhere and they will add just enough color without any maintenance at all!
Use Minimal Bathroom Colors
A small bathroom's color palette can be kept to a minimum for maximum impact. Whether you go bold with just one tone or keep it simple, the space should remain harmonious and not overwhelming by choosing colors that compliment each other. In this modern white tiled bathroom designed by House Nine, neutral hues like gray on concrete flooring complement bright accents such as black towels in intricate patterns while dark wood furniture acts as an elegant contrast against pure light walls which are set off further thanks to mirrors casting reflections back onto them.


you can always hired the best home decor firm in singapore. Ovon-D will provide a full package service and help you to bring your dream design to reality. Ovon-D team has managed to preserve a great reputation with experienced team members and our reputable image, no need to worry to hire an excellent firm like us. Find Ovon-D, at 53 Joo Chiat Place, Singapore, or call us now!