How is your kitchen design? Have you been thinking of remodeling your kitchen? Maybe it's time for you to remodel your kitchen with a kitchen
contractor in Singapore
. Doing a makeover to your kitchen is the best way to make your kitchen look more fresh and newly-made look-alike. A simple kitchen is the solution for maximizing the function of your kitchen through the interior design and the furniture.
Before going straight to the main topic, let's understand more about the idea of a kitchen. Kitchen is not a place to cook only but the kitchen is the centre of a house where we can cook and eat together with our family everyday. Remodeling your kitchen will give you a lot of benefits which could make you feel comfortable while cooking for your whole family.
Kitchen Contractor Singapore 
For those of you who want to find a professional interior designer and worrying about the
cost of kitchen renovation in Singapore
, do not hesitate to Ovon-D! You can obtain project management renovation based on your budget and interest. But, do you want to know more about
kitchen design ideas
? Let's Check these out!
3 Reasons To Renovate Your Kitchen 
Do you need a reason to renovate your kitchen? Or Do you keep thinking about why
kitchen renovation is an important reason to remodel
? There are countless reasons to makeover your kitchen. Here are 3 reasons why you need to renovate your kitchen.
Improve Functionality & Eliminate Inconvenience
The first reason why you need to renovate your kitchen is to improve functionality and eliminate inconveniences. A kitchen that hasn't been renovated for some time indicates idiosyncrasies which mean it's not functional. You might not be allowed to open your refrigerator when your cabinet drawer is open. 
Upgrade to fit your style
Remodeling a kitchen with a great updated kitchen design that suits you will make you enjoy while preparing your family's food. Since you will be spending a lot of time in your kitchen, make sure to remodel it with an updated and functional design.
Increase energy & water savings
If you want to save your housing costs, you can start by remodeling your kitchen. Some of you might use your old kitchen stuff like refrigerator, microwaves, dishwashers etc in your kitchen. This old stuff will make your kitchen look vintage but without realising it, old kitchen stuff takes a tremendous amount of electricity to run. Besides that, it will take a big cost for the repairation. You can change your old kitchen stuff to energy and water saving appliances.
5 Kitchen Renovation Mistake You Should Avoid
Having a kitchen renovation is important to improve the functionality but some of you might make mistakes while renovating it. Here are 5 kitchen renovation mistakes that you should avoid.
Not Enough Spaces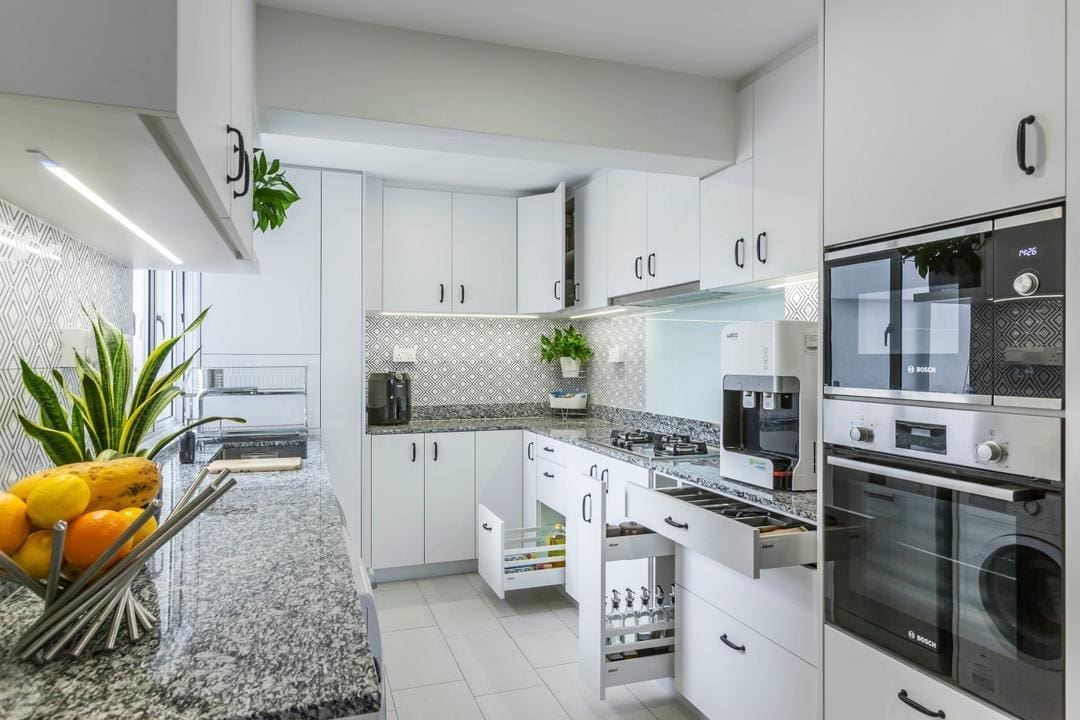 The most common mistake when doing a kitchen makeover is not having enough space. You can use all your storages to keep your things. You can also install a wall mounted pegboard in your kitchen which will increase your space.
Leaving Kitchen Appliances Till Last
If your kitchen stuff is over 25 years old, don't use them anymore because an over 25 years old kitchen stuff won't be stamped with the EPA's Energy Star Seal which means it takes a lot of electricity to run.To save your wallet cost, you can shop your new kitchen appliances.
Doing The Whole Thing Alone
Doing the whole renovation by yourself will take a lot of time. You might also ruin your kitchen. To save your time, you can ask for interior designer's help or if you want to implement a DIY kitchen renovation, you can consult with the professionals because they will give you a recommendation and provide you with tips and ideas to renovate your kitchen.
Lack Of Lighting
Having enough lighting in your kitchen is a must. You can install different lights in your kitchen if you want to use different lights based on their purpose like using soft lighting when having dinner, using task lighting when chopping and preparing meals for your family.
Wrong Placement Of Kitchen Island
For those who are having a small kitchen, a good placement of your kitchen appliances is a must. You must organize them properly if you don't want to get in trouble while cooking. You should buy the small appliances which fit your kitchen. For safety, you should leave at least 4 feet of empty space between the island and your kitchen appliance. This is to give a convenient traffic flow when you open your kitchen components' door.
Ovon-D Interior in Singapore
Looking for an interior designer in Singapore? Contact Ovon Design right away! Ovon Design provides
kitchen renovation package 2021 Singapore
and offers a complete range of services such as space planning and conceptualized design, material proposal, budget planning, submission to authorities, soft furnishing and styling, consultation and project management renovation.


Ovon-D is a professional and trusted interior design in Singapore and have reached some achievements in this grounds such as Qanvast Supertrust 2021, SIDS,Sfic,HDB registered renovation contractor, BCA General builder class 2,registered contractor, case trust, bizSafe3, Singapore trusted enterprise award. Are you ready for some new adventure? Ovon-D can be your company! Designing and renovating for your kitchen will be easier with Ovon-D.