Do you feel bored of your own toilet in your home? Or are you currently looking for ideas to renovate it and are still confused to choose the best one? A bathroom, especially your toilet area is one of the important parts of your home. A well designed toilet is everyone's dream, and you might be one of them. Most people admit that they can gain inspiration in the bathroom. 
Well, believe it or not, having a great designed bathroom, especially your toilet can boost your mood, and  it would be magnificent if you could hire an experienced interior design firm that can fulfill your wish. There are several b
est toilet renovation Singapore
and Ovon-D might be the best option for that. Here are some affordable toilet renovation ideas Singapore! 
How Does It Cost?
Whether you are planning on a complete bathroom renovation project or simply intend to do some DIY for in this case, your
HDB toilet makeover
, you must be mindful of full toilet renovation price or even partial toilet renovation cost. Designing your brand new toilet definitely requires lots of

renovation cost Singapore

and effort. 
An entire

renovation toilet

project will cost you between S$4,000 and S$7,500 on average. You still have to think about the materials and finishes you want to use later on. The best thing you can do is find the best
toilet renovation contractor Singapore
who can set the budget with efficient cost and time, like Ovon-D. 
Essentials That Can Change Your Budget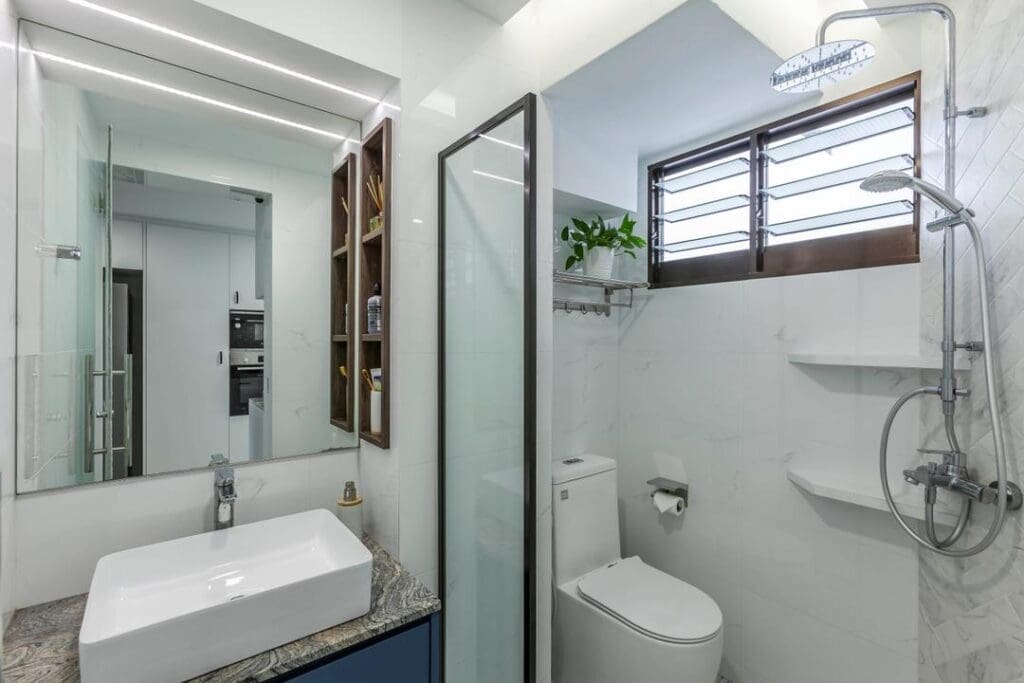 Your bathroom items and accessories can significantly influence your budget. When you are about to renovate your toilet by choose affordable toilet renovation singapore package, things such as materials, functionality, and furnishings can be important for your consideration.
Id
entifying all of these factors long in advance will save you a lot of money. 
The first one is your lighting. Lighting is very essential for every room in your home because it doesn't only have an aesthetic value but also a functional one. Don't forget to include proper lighting in your bathroom, especially if you have a small space. It is better that you invest in recessed lights for the ceiling and LED lights for under cabinet lighting. 
You will also need humid resistant lighting in your toilet. Maintain your vanity and sink area well because you might need more light in this area.
Another aspect you need to keep in mind is ventilation. It is indeed a common blunder that many people make when having toilets renovated. Proper ventilation is required in your bathroom. A frosted glass window will also help in the preservation of your privacy. Purchase in a high-quality window because the humidity will be high in your toilet.
Tiles in every room is also an important aspect of the home design. However, in your toilet, it is vital to maintain that the floor is not only glamorous but also functional. Ceramic tile is one of the best bathroom flooring options. It can cater to almost any style preference, is water resistant, and is also low maintenance. 
Fresh look tiles can instantly improve the appearance of your toilet and bring a touch of style to otherwise boring interiors. There are different options from which to choose, but if you feel confused with that, let your interior designer decide which is best for you.
The professional will help you in finding the best option depending on your taste, for example, Ovon-D!
Bathroom Renovation Package
An experienced and well-recommended design interior firm is required for your affordable toilet renovation packages. It will certainly give you a list of items you should renovate in your toilet  and it depends on the condition of your bathroom. If you don't really want to spend a lot of money on your bathroom renovation, you should be aware of some essential items.
Once you choose a full bathroom renovation or toilet renovation contractor, you usually get some essential needs like; hacking, plumbing installation for your new piping, flooring finish, water resistance works, shower area, and a new toilet fixture.
The best interior design firm, for example, Ovon-D will not only offer
toilet renovation promotion, but also
serve a full range of design services to ensure that it can accommodate every potential client. A professional designer will give you the best services like Interior designing, renovation, sketching, consultation, project management, and many other services. Make sure to hire the best one. 
Not only will you have a hygienic, beautiful, and efficient toilet after a low-cost and smart toilet renovation, but you will also have substantially more money in your bank account to save once you hire the best interior designer to help you.  

Design Your Dream Space with Ovon-D!
Ovon-D, your best professional interior design firm and bathroom contractor singapore will assist you with everything you need for your home design. Working with experienced team members, don't be afraid to visualise your dream with us! Visit our website to see our previous project and give us a call! You can always come to our showroom in 53 Joo Chiat Place Singapore as well.