Are you thinking about how your dream interior design would be? Or are you planning to redecorate your house but are unsure how to choose an best interior design that will bring your vision to life? If this is the case, the first thing you need to do is make a budget plan as well as find a reputable interior designer that can turn your magnificent vision into a reality. 
Many people are still hesitant to hire interior design firms in Singapore because of the amount of the cost. Before you go any further, you should consider this carefully. But do not worry, Ovon-D is the best option for you!
Interior Design Project Costs in Singapore
According to Yahoo Finance, they discovered that the average cost of an interior design project runs from S$34,000 to S$234,000 according to the size of the resident. They also discovered that resale HDB projects are usually 25% more expensive than new HDB projects due to the fact that new owners may need to invest additional money to repair some construction damage.
Smaller size renovations that include only a superficial modification of your HDB flat, on the other hand, will cost between S$11,000 and S$15,000. However, an interior designer for your condo will cost you between S$40,500 and S$106,000, based on the size of your condo, while real estate projects cost around S$200,000.
There are several interior design firms in Singapore that also provide promotional package offers. Usually this offer includes consultations for your design, your space planning, project management, and other tasks like painting, cleaning, and labour work.
These offers range
between S$6,600 to S$20,600 for new HDB flats and between S$22,000 to S$27,000 for HDB resale ones. And if it is necessary, they will also hire contractors for some projects, such as masonry and carpentry.
Cost Factors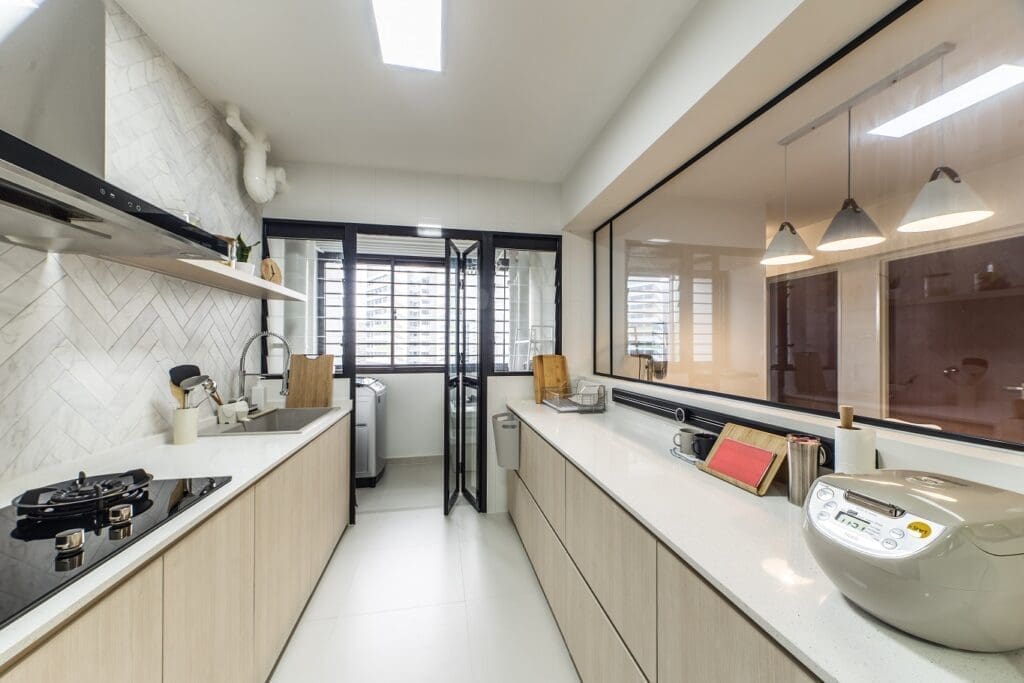 Another significant factor is that  interior design firms have their own price structure, designers sometimes operate on an hourly or project basis. If it is a project, designers may include the amount of hours required in the invoicing. 
The style that you want to use will also have an impact on the cost. It is wise to discuss with the professionals about the styles in which they expertise since they will be more likely to know how to manage the cost and help you in sticking within your budget.
Designer Fees
An interior designer does more than just arrange and design your space. They are responsible for designing sketches and 3D models, discussing materials and color schemes with you, and also estimating your overall budgets before beginning work.
According to Qanvast statistics, basic design costs for both a HDB or a condominium would cost between $1,500 to $6,000. Sometimes interior designers do not always have hourly or fixed rate, they can also be paid with a percentage of the project or a pre-fixed rate. 
When interior design firms acknowledge the limits, they will provide renovations that give the highest results without going out of the line. Make sure to hire the best one!
What Are the Major Renovation Costs?
Major renovation usually happens to some significant areas of the project for your space. This might be your consideration to hire an interior design firm to plan your project efficiently with your budget. 
In Singapore, flooring is an essential component of any residence and also  is a costly aspect of most home renovation projects. Thus, there are several different costs for flooring based on the materials. Since it is essential, you should carefully calculate the costs in this part and find the right firm as well.
However, for some people who want to purchase custom-made furniture, they must consider Carpentry in their budget. Carpentry  is an essential component of house renovation. Its cost will be determined by how much customized furniture you want, as well as the brand of finishes used, such as laminate, hinges, and drawer tracks, and other things. The costs can start from
$250 to $23, 500 based on level. 
Living in a tropical area like Singapore requires you to have a good air-conditioning system and this is not affordable for most people. Different types of air conditioning can also have a substantial impact on costs
You can now estimate how much the renovation or hiring an interior designer would cost you. Remember that communication is always the key, so have a little discussion with several firms and you can do some research about them before making your decision. If you are looking for a reputable interior designer, Ovon-D would be your best choice!
Find the Finest Service for Your Interior Design with Ovon-D!
Ovon-D will provide a full package service and help you to bring your dream design to reality. Ovon-D team has managed to preserve a great reputation with experienced team members and our reputable image, no need to worry to hire an excellent firm like us.  Find Ovon-D, at 53 Joo Chiat Place, Singapore, or call us now!.