In doing a bedroom renovation Singapore, each person must have their own expectations. Bedroom renovations are indeed a winning prospect in so many ways.
. Unlike kitchens or baths, bedrooms require very little complicated, invasive work. Besides, the bedroom is one of the most important areas to do a home improvement, thus, turning it into a beautiful well-designed place is a perfect step.
Feeling Bored in Your Bedroom?
Then, you should definitely start thinking of doing master bedroom renovations! Usually, a monotonous or a messy bedroom can make you feel indolent. You might only want to just sleep and wake up the next morning to head out quickly from the home.
Well, a bedroom should be a special area that suits your feelings and calms your mind. It should be soothing enough to make you want to relax and find comfort.
For example, after a long day of work, and you go home to your HDB flat with a very boring bedroom, what do you think you should do? Probably start doing research of a 4 bedroom renovation or renovations in Singapore right away, yes?
Go do that thing! Renovating your bedroom is going to turn everything into something new, something fresh, and definitely something you will love!
Do not worry about the renovation costs, with Ovon-D, you can get the best quality of a bedroom renovation alongside the budget that you have set up. Ovon Design can discuss the budget planning and the interior design that match your needs!
Bedroom Ideas You Can Apply to Your Future Bedroom Interior Design

Primary Bedroom
In order to do a bedroom design in Singapore to a primary bedroom, you need an interior designer to do all the work, such as designing the floor and walls materials, matching the budget between each material per square foot, and more.
You can ask for advice from an interior designer like Ovon-D in Singapore! Especially if you intend to save some more space by merging two rooms to become your primary bedroom. With Ovon Design's decorating ideas, you can obtain an ideal primary bedroom!
Lighting Can Affect Moods, Don't You Know?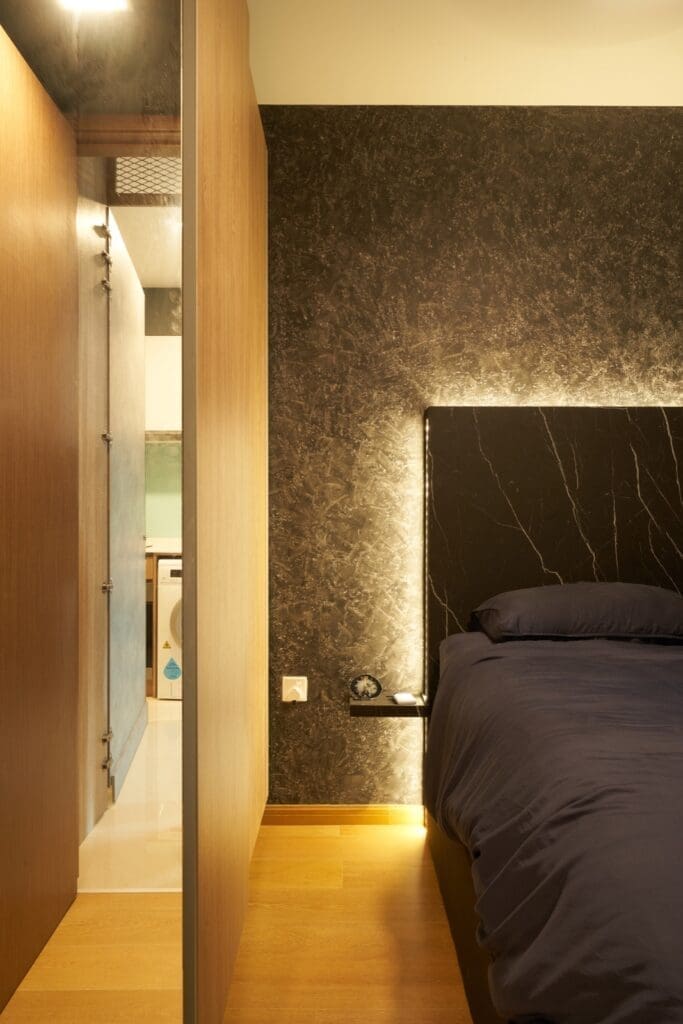 Although commonly, single-set night lamps are put on the bedside tables, you can try to consider adding a combination of light sources in your bedroom. Besides, more lighting, more feelings you might get.
For example, try to put on an eccentric with a warm-colored ceiling light or a chandelier to give you a feeling of capaciousness and elegance. But, if you want to save space, installing a lighting source from behind the wall can be a perfect choice for a night reading. 
Bedroom Flooring
To feel more comfortable when stepping on the floor, you might want to consider having soft floors such as carpeting the area to make the entire room bare feet-friendly, or adding rug over wood. 
Guess what, having a bedroom flooring that gives you warmth and relaxed feelings can help your rest schedule finer. Imagine going into a hotel room and you step on a wall-to-wall carpet flooring, you would experience a nice ambience, right?
Characteristic
You can discuss with interior designers about the wall painting or wallpaper, and the furniture that has similar taste to your personality. Interior designers paint colors as you wish, based on what you intend the feelings to emerge when you walk in your bedroom.
If you like some elegant style, you can keep the simple furniture and accessories such as ceiling lamp, neutral palette for the entire room, or a simple one or two plants for accents. Or, if you are confused about adding a touch of character to your primary bedroom, Ovon-D can help with soft furnishing and styling consultation!
Let's Paint Some Colors
Color represents personality. If you are a person who is more into black and white, then a monochromatic theme is the best option. Otherwise, if you want to explore more fun with mixing colors, then, try to consult with your interior designer regarding the balanced color schemes!
Shine Bright Like a Sunlight!
Let sunlight come into your primary bedroom as much as possible. You will need that for sure. Besides making your body healthy, natural light that is reflected by large windows and mirrors can make the room seem spacious.
Choose Your Wardrobe Features
You can try to install a built-in wardrobe, walk-in wardrobe, or a transparent wardrobe. Choose them according to your likings! Sometimes, to make the room feel wider, a glass partitioned and an unrestricted style for a wardrobe is perfect!
Ovon-D, Renovations Packages for Bedrooms!
Visit our showroom at 53 Joo Chiat Place in Singapore or simply contact us! For further easy master or primary bedroom renovation, Ovon-D is always here to help you with the project management renovation and budget planning!